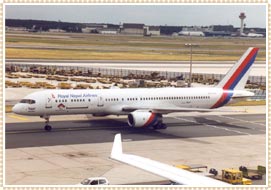 Tribhuwan International Airport at Kathmandu is the sole international airport in Nepal. The airport is well equipped to handle international flights of all kind, make and size. The airport has good transit facilities though service is not world class. The officials are co-operative and the immigration process is very simple.
As far as International flights are concerned, Nepal has lots of them. Apart from the government owned Royal Nepalese Airways, Nepal also has a couple of other operators such as Yak and Yeti Airlines and Cosmic airways. As far as International operators are concerned, 50 different airlines from all over the world provide their service to Kathmandu. All the major airlines in the world such as Virgin, Lufthansa, Aeroflot, Emirates, Air India, PIA and British Airlines provide their service in Kathmandu,
Kathmandu has direct or indirect flights from nearly all the major cities in Eurasia and Americas. There are direct flights to Asian cities like Delhi, Mumbai, Dhaka, Karachi, Islamabad, Sanghai, Singapore, Tokyo, Dubai, Doha and Abu Dhabi. Among the European cities, flights are available from Paris, London, Berlin, Berne, Frankfurt, Vienna, Munich, Moscow and Amsterdam. Apart from that, regular flights are available from New York, Los Angeles and Tel Aviv too.