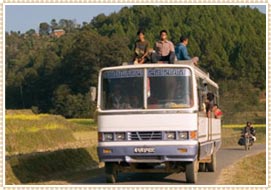 Local transportation is not a problem in Nepal. Different modes of transportation are available according to your budget and preference. Try and stick to the modes that are normally preferred by the visitors such as cabs and auto-rickshaws. Following are the different modes of local transportation in Nepal: -
Local Bus
These are arguably the cheapest mode of transportation in Nepal but are too crowded for comfort. It is very likely that you will have to share your seats with poultries at times. Also, on occasions, be prepared to wait, as some buses will not move until full to a certain quota.
Tourist Bus
These are relatively comfortable but are only operational on wide inter cities roads. This is always full of tourists therefore book a few days ahead with any travel agent (or your hotel will book it for you). A welcome break from local buses but not much safer. The only saving grace is the fact that everybody gets a seat to sit.
Rickshaw
These are good for short jaunts if you don't have much luggage and don't mind a bit of cramp space. Bargain before you get in, and don't be afraid to walk away and try another.
Tempo
These come in two types. One is a three-wheeled electric or propane-powered microbus for 10-13 passengers. They run in different routes around the city. The other type is a newer Toyota van running the same routes at a higher price and a bit faster and safer. It is more comfortable and is slowly taking the place of former.
Taxis
There are two types of taxis in Nepal. The first one is called "private", which can be hired anywhere both on route and day basis, the other one is interestingly called "10 Rupee", which don't leave for destination until they are full.
Motorcycle
Another choice is to rent a motorcycle. And it can be rented in the Thamel area at a low cost. Most of the bikes in the stable are Royal Enfield Bullets or Yamaha RD 350. These are good machines and are the best for long hill rides.