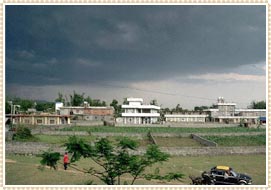 Nepal is, undoubtedly, a naturally beautiful country that enjoys pleasant weather round the year. Its geographical diversity has divided the weather into five weather zones — tropical, tropical zone, temperate zone, cold zone, sub artic zone and the artic zone. The country enjoys different seasons of spring, summer, monsoons, autumn, and winter. However, the spring and autumn season offer the ideal time to visit the country when it is neither too hot, nor too cold.
Spring
Spring season in Nepal continues from March till May. It also offers the best time to visit the beautiful country of Nepal. In this particular season, the country attracts large number of tourists. The months of March-April are considered the second best season for trekking, the best time being October-November.
Summers
The month of June heralds the arrival of summers which lasts till August. During the summer months, the average temperature lingers around 28
0
C. However, the hilly areas experience much higher temperature due to scorching sun.
Monsoons
Nepal receives monsoons from June that continues till September, with 2,500 millimeters of rain every year. After monsoons, starts the dry season from October till November which offers enjoyable weather, as countryside gets lush green after the rains.
Autumn
As the natives get a little relief from scorching summers and heavy rains, then comes autumn which lasts from September to November. This is certainly the best time to visit Nepal, as the surrounds get clear by summer monsoons. During autumn months, the weather remains pleasant, not much affected by cold.
Winters
Nepal enjoys winter season during December-February. The temperature reaches almost the freezing point during these months, while hilly regions experience rough weather and heavy snowfall.