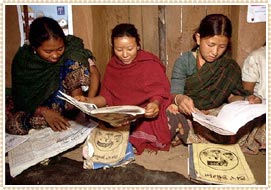 Nepal has integrated itself fully with the changing world. It has enough flexibility in itself to come in terms with modern technology and changes. The same stands true for communication medium as well. Nepal has a good network of Telephones and Internet. Apart from that, State-run as well as Private-operated channels and radio stations are in ample numbers in Nepal.
Telephones in Nepal
Nepal has a good telephone network for both Cellular as well as Landline services. The phone network is quite modern and is in accordance with the ongoing technologies in the West. There are lots of phone booths or kiosks in Nepal with both STD and ISD services apart from the local service. The local calls are cheap and so are trunk calls. The international trunk calls are very costly in comparison to the rates prevailing in other South-Asian countries. The network is generally congestion free. As far as cellular service is concerned, Nepal is yet to modernize. The cellular service is not as per international standards but is good enough in comparison to most of the countries in Central Asia and Sub-Sahara Africa. Local calls are cheap but international and national calls are quite costly. It is better you stick to the landlines.
Internet
Nepal had a tryst with the Internet service as early as 1997, when the foreign tourists brought the idea of electronic communication with them. Since then, Nepal has convincingly modernized its Internet service. Nearly all high-end hotels provide Internet facility in the hotels itself. Apart from that you will find government as well as private operated Internet cafés in every town of Nepal. The major service provider is the government itself but there are private parties too.
Television and Radio
State run and private satellite channels are available in Nepal. Though highly censored, these channels are the only ways for entertainment for inhabitants. Some good hotels have their own downlink facilities and thus these can provide European and American channels to their consumers. It is true for the radio too. Lots of FM channels, that mostly play Hindi and Nepalese songs, are available in Nepal. Some of the European and American channels can be heard on Short wave but the broadcast quality is below the mark. High-end hotels have Worldspace satellite service that has crystal clear audio and plays more than 50 different channels. Many of these channels are from Western Europe and America.
Newspapers and Magazines
Nepal has many dailies and weeklies. Most of these newspapers are in Nepalese. Very few newspapers are published in English. The contents and editorials of these newspapers are not very convincing and that too come through heavy state censorships. High-end hotels will provide international papers such as New York Times and The Guardian on demand but it will be a postal edition that carries 3-days back news.