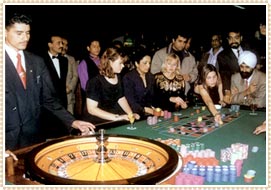 Nepal is a vibrant country and changes itself according to the waves that sweep the world. This is indeed plausible for a country that is situated in South Asia and is flanked by cultures as conservative and inflexible as India, Bangladesh and Bhutan. Over the years Kathmandu has seen many changes, in people as well as in trends. Every time the world thought that Kathmandu is a passé, it reincarnated as phoenix. The Kathmandu in the early 60's saw a sudden fall in the number of traditional tourists because of the sense of insecurity and instability in the west. It is then that the idea of casinos took birth.
Gambling has always been an integral part of South Asian lifestyle. Gambling is mentioned as the favorite game in the times of Mahabharata. In fact it was the game of gambling that led to the famous battle. Even in Pre-Islamic Persian society, this game was considered to be royal. The game ceased to get royal patronage after the advent of Islam in the South-Asia.
When it comes to Casinos, Kathmandu has lots to offer to the visitors. Besides lots of smalltime points, Kathmandu has four famous casinos. All of them offer regular casino games such as Poker, Baccarat, Roulette, Pontoon and Blackjack among others. All the games are played in chips and they can be purchased either with western currencies such as US Dollars, UK Pound and Euro or with Indian rupees. Of these, Casino Anna is arguably the best and the most frequented casino of Nepal. It is situated in a 5 star hotel Annapurna on the famous Durbar Road and has facility for both novices and experts. Besides, it also has a well-maintained barbeque to serve the clients. The ambience of this casino is perfect for gambling and is free from regular brawls that are so common in the United States. Just across the road is Casino Royale, the den for old-world charm. This is situated on the ground floor of a 5 star hotel Yak and Yeti. This hotel is built in the historical Rana Place and provides an old-world charm. This place also provides free breakfast and dinner. This is mostly frequented by men in 40s and above and is relatively civilized in its ambience.
The oldest casino in Nepal is 'Casino Nepal'. This was the first casino in entire South-Asia and is biggest among them all in terms of seating capability. This casino too, is situated in a 5 star hotel called Crown Plaza. The casino is the cheapest of all in terms of food and beverage. Last but not the least is Casino Everest. This place is a casino and a resort clubbed in one. The casino is located in a relatively quiet locality called Baneswar. This casino is closest to the Airport and has a very quiet ambience. This place too, provides free food and drinks from its awesome barbeque.