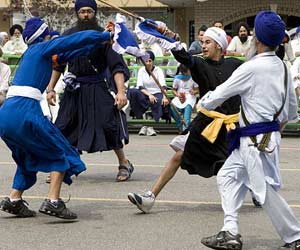 Time:
Bhadon month (Mid-August-Mid September)
Place:
Jalandhar
Significance:
Commemorates the heavenly descent of Baba Sodal
Highlights:
Prayers
Baba Sodal Mela occupies a prominent place in the list of fairs in Punjab. The fair is held to pay tribute to the great soul of the Bab Sodal. Every year, it is held in the month of Bhadon, in the city of Jalandhar. The celebration takes place on the 14th day of Shukal Paksh (bright half of the lunar month). The fair attracts thousands of pilgrims from all over the country, who come and pay tribute to the deity on this day. Baba Sodal Fair is centered on the Samadhi of the baba, with his painted portrait placed alongside, decorated with flowers and rosaries. There is a holy tank nearby the Samadhi, which is called the 'Baba Sodal da Sarovar'. Pilgrims either sprinkle the holy water from this tank on themselves or sometimes, even take a dip in the tank. Then they present offerings at the Samadhi of Baba Sodal.
Legend of Baba Sodal
Legend goes that Baba Sodal was born in a family of Chadha clan of Khatri caste, in the Jalandhar city. There are several myths associated with the baba. One of them goes that as a small boy, Baba Sodal once followed his mother to the pond where she used to wash clothes. Despite being repeatedly asked not to follow, he reached the pond. Angered at his disobedience, his mother cursed him. He asked her to repeat the curse three times. As she did so, he immediately disappeared into the pond and was never found again. The day when Baba Sodal left the mortal world and proceeded towards his celestial abode is celebrated as a fair in the state.
There is yet another legend that is associated with Baba Sodal. It cites that after being cursed, Baba Sodal appeared in the form of a holy snake and declared his farewell from this mortal world. He asked Chadha and Anand families to accept his reincarnation and to offer him Mathi (local flour made snake) called "Topa". He said that "topa" could be consumed only by the members of Chadha Clan. On the amawasya (no moon night) that falls before the Sodal Fair, the head of Chadha Clan visits the pond and extracts clay fourteen times for his each of his son.
The extraction of clay is done with the belief that by doing so Baba Ji will appear on the day of Trydashi (13th of local month). Kasar (kneading of simple flour) is also made and offered fourteen times, gradually in parts. On Chaturdarshi (14th of local month), all the members of the Chadha clan eat only fried food, especially made from a traditional fry pan. Before eight days of the fair, all members of the Chadha clan sow 'Kheti' in the name of Baba Ji, a tradition that means the more prosperous the sow, happier and richer will be the family.