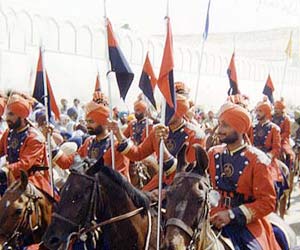 Time:
March-April
Place:
Jarag, Ludhiana
Significance:
Displays unique community life of the local people of Punjab
Highlights:
Worship of Goddess Seetla, Offering of a sweet called gurgulus, Beautifully decorated donkeys
Jarag fair is one of the important fairs of Punjab that is held in Jarag, a village in tehsil Pail and district Ludhiana. The fair is also known as Baheria Fair. It is organized in the month of Cheth (March-April), in the honor of the Goddess Seetla. The festival is celebrated in Malwa and Powad as well, but the fair is held only in Jarag. On the day of the fair, the devotees of Goddess Seetla gather near the pond and scoop a portion of the earth to form a mound. The mound is revered as the shrine of the Goddess.
Prayers and pujas are conducted on Jarag Fair. Sweet gurgulus (jiggery cakes) are made one day prior to the fair and offered to the Goddess on the day of fair. The sweets are then offered to the donkeys, which are the favorite of the Goddess. Donkeys are specially decorated for the occasion, with potters cladding them in attractive colorful blankets. Some even put bells or conch shells and beads around their neck.
After the rituals, people cherish the gurgulus among themselves. A number of stalls are also set up in the fair. There is a wide display of handicrafts and traditional items, which have something to offer for everybody's taste. Many cultural programs with traditional songs and dances are presented in the fair. The fair gives an excellent opportunity to the tourists to experience the community life of the local people.