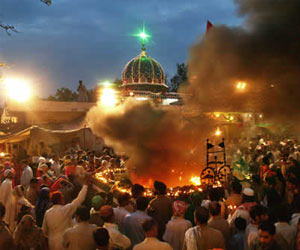 Time:
Phagun (February-March)
Place
: Jagravan
Significance:
Celebrated in the honor of Muslim pir, Abdul Kader
Highlights:
Lighting of lamps at the shrine of the pir, Organization of cultural events
Roshni Fair (Fair of the Lights) is held in Jagravan, a city in the Ludhiana district of Punjab, from 14th to 16th of Phagun month (February-March). It is held in the honor of a Muslim Pir (saint), Abdul Kader Jalani. However, people of all casts, creeds and religions actively participate in the fair. Roshni Fair is organized at the vicinity of the pir's tomb. It is called the 'Fair of Lights' because the devotees coming to visit the place light earthern lamps at the shrine of the pir.
Youths color the occasion further by singing bolian and performing traditional dances. The songs and dances are given an extra sweetness by the melodious strains of the flute and the one-stringed instrument called Toomba. Circus, magic shows, swings etc are other important attractions of the fair. It is commonly believed that sincere wishes come true at the shrine of this great pir.