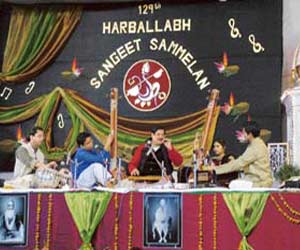 Time:
27th to 30th December
Place:
Jalandhar
Significance:
Commemorates the memory of the great musician Swami Harballabh
Highlights:
Best of classical vocalists and instrumentalists performing live to a mass audience
Harballabh Sangeet Sammelan is one of the important fairs of Punjab, a state that has an exceptional cultural aspect embedded in it. It is more of a musical concert, which is being organized for more than 130 years in Punjab. The fair commemorates the memory of the genius saint-musician, Swami Harballabh. Every year, it is organized at Devi Talab, near the Samadhi of the saint, in Jalandhar, from 27th December to 30th December. It presents an opportunity to the renowned musicians and singers of the country to celebrate Indian Classical music together.
Swami Harballabh
The name of Swami Harballabh stands high in the field of classical music. He belonged to a rich family of village Bajwara of district Hoshiarpur, but was disillusioned with the worldly life and renounced it to embrace music forever. He became the disciple of Swami Tulja Gir, who initiated him into the world of music. Within a very short time, Swami Harballabh became the maestro of Indian Classical music. Among his many compositions, the 'Dhrupads' are the most popularly acknowledged ones. Besides, being a master musician, he also composed new tunes in classical music.
Swami Harballabh was so popular that he drew a large number of admirers and disciples. One of his main disciples was Pandit Tolo Ram, a Brahmin of Jalandhar, who succeeded Swami Harballabh's institution after his death. In 1956, a Sangeet Academy was founded under the aegis of the Harballah Sangeet Mahasabha. The purpose of the Academy is to form a centre in Punjab to teach and make researches in classical music. It has a prescribed set of syllabus and conducts examinations to award degrees and diplomas to the candidates.
The Sammelan
The first Harballabh Sangeet Sammelan was organized in 1875. Since then, it continues to be one of the most widely visited concerts of the country. This three-day concert attracts audience as well as artists from both within and outside the country. The main purpose of the Sammelan is to promote the development of Indian classical music on a wider scale. It gives an excellent opportunity to hear some of the best music and the most melodious voices of the reputed singers of the country. Also, it is a golden chance for the artists to address their performance to a mass audience. Both vocalists as well as the instrumentalists, the two main exponents of classical music, perform during the Sammelan. Another encouraging aspect is that the organizers of the Sammelan offers free tickets and even the accommodation and food is absolutely free of cost. So, make sure you don't miss the great concert when you visit Punjab.