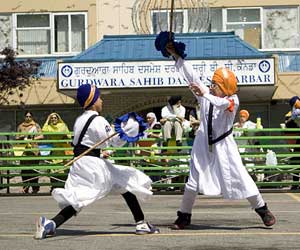 Time:
24th to 26th December
Place:
Gurudwara Fatehpur Sahib, Fatehpur district (Punjab)
Significance:
Celebrated to pay tribute to the great martyrdom of Baba Zorawar Singh Ji and Baba Fateh Singh Ji
Highlights:
Three days mela; with akhand paath on first day, political rallies on second day and nagar kirtan on third day
Shaheedi Jor Mela is organized every year in the month of December, at the Gurudwara Fatehgarh Sahib, in the Fatehgarh District of Punjab. The fair is organized to pay tribute to the martyrdom of Baba Zorawar Singh Ji and Baba Fateh Singh Ji. They were the brave Sahibzadas (princes) of Guru Gobind Singh. They have a special position in the history of Sikhism owing to their unshaken patriotism to their religion. At a very tender age, they denied the offer of Wazir Khan, the then Governor of Sirhind, to have treasures and easy life if they convert to Islam. They were initially entombed alive, by being bricked to a wall. However, it was not powerful enough to kill them. Later, on 26th December 1705, both of them were mercilessly martyred at Sirhind.
Propaganda
Shaheedi Jor Mela is organized for three consecutive days, in the month of Demmber. The mela begins on 24th December in a highly religious manner. Akhand Paath of Guru Granth Sahib is organized at Gurdwara Jyoti Swarup. Next day is the day for political rallies and meetings. Various stages are set near the gurdwaras, for this purpose only. Finally, on 26th December, the mela ends with nagar kirtan from Gurdwara Fatehgarh Sahib to Gurdwara Jyoti Swarup.
Participation
Lakhs of devotees visit Gurdwara Fatehgarh Sahib and Gurdwara Jyoti Swarup during the three days of the mela, to pay their homage to the two Gurus. People from nearby villages actively participate in its preparations. They extend their helpful hand in organizing langars (free meals) for the devotees visiting Gurdwara Fatehgarh Sahib. They also cooperate at the community kitchen, serving tea, snacks and meals to the devotees on their way to Sirhind. People from far away places come to Sirhind to do service (karsewa) despite the chilly cold winter of December.