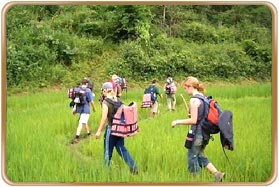 The pristine hilly beauty, kodaikanal is not just apt for nature walks and exploring the unadulterated beauty of the verdant locales but is also up on the adventure quotient as it offers amazing opportunities to explore some thrilling sports and other fun activities. Tourists can make their vacations a wholesome experience by trying en entire range of exhilarating things to do in Kodaikanal. Below mentioned are some of the exciting fun activities to do in the spectacular town of Kodaikanal for the experience of a lifetime.
Fun Activities To Do In Kodaikanal
Trekking & Hiking
Perched at an altitude of 2,133 meters, Kodaikanal offers a lot of trekking and hiking activities. A popular choice for trekking in Kodiakanal is the Perumal peak situated at a distance of 11.3 kms from the centre of the town. The tourists may start from the Neutral Saddle which is the beginning of the ascent of the peak. It takes about 4 hours for the tourists to trek the ascent of 2, 440 meters of the Perumal Peak. Hiking in Kodaikanal is an excellent opportunity to enjoy a glimplse of the rich flora and fauna kodaikanal is gifted with. The hill station has inlaid hiking trails which pass through the Shola forest region, home to variegated orchids and the grizzled giant squirrel.
Biking & Horse Riding
Kodaikanal offers the tourists a lot of opportunities to participate in adventure sports like biking and horse riding in the mountainous terrain of the Western Ghats. Adventure sports are an exciting and thrilling way to explore the beauty of this picturesque region. The town has some special provisions for children who may visit the parks for riding the pony. Horse riding is also available in the parks and near the tourist places.
Bird Watching
Kodaikanal is a paradise for bird watchers. The misty hilly slopes of Western Ghats are the ideal location to sight a variety of birds. Tourists may also be able of find buds of the unique Kurunji flowers which blossom only once in a year giving a bluish shade to the entire hill slope. The bird watching enthusiasts will find it thrilling to sight birds as they meander in this naturally charming backdrop of Kodaikanal.
Shopping
For the shopping buffs, Kodaikanal offers a range of attractive options like exquisite embroidery, Kodai Cheese, Warm clothes, dried flowers, shawls, Jewelry, eucalyptus oils. A number of distinct item are at sale in Kodaikanal which makes shopping exciting. The good shopping locations in Kodaikanal include Khadi Emporium, Corsack, Kurinji Mini Supermarket, Spencer and Company, Handloom Co-operative Stores and Travancore Crafts Work, Government Sales Emporium.
Boating
Trip to Kodaikanal is not complete if you donít enjoy boating at the Kodai Lake. Here various kinds of boats, such as, single/ double, pedal/ row/ shikara, etc, can be hired at reasonable rates from the Kodaikanal Boat and Rowing Club. The timings for boating are from 9 am to 5.30 pm. Round the lake, there is a flat road which is ideal for cycling. You can hire a bicycle to ride 6-km circumference; it is very refreshing.
Nature Walk
Wish to savor the scenic views of Kodai? Why donít try a leisure walk in this nature's county? Head towards the Coaker's Walk; it's a hill-edged boulevard on the steep south-eastern mountainside. This 1-km walk boasts of amazing views of Dolphinís Nose, Pambar River, and Madurai. Adjacent to Coaker's Walk, Bryant Park is a botanical garden where a road meanders past Green Valley View Point and twists 7 kms to reach Kodaiís most famous attraction - Pillar Rocks. A walk through this park is really soothing.