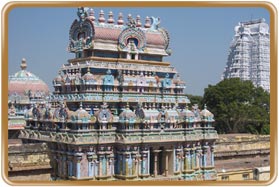 Sri Ranganathaswamy Temple is situated in Srirangam town of Tamil Nadu state of India. The Sri Ranganathaswamy is a Hindu temple dedicated to Lord Ranganatha. The Ranganathaswamy temple is the first and foremost among the 108 Divya Desams, the holy abodes of Lord Vishnu. The temple sprawls over an area of about 156 acres (6,31,000 sq m), making it one of the largest temples in India. A total of seven concentric walls enclose the Sri Ranganathaswamy temple and the total length of these walls is 32,592 enclosed by 21 Gopurams (towers).
The hall of 1000 pillars is the most awesome part of the Sri Ranganathaswamy temple/Srirangam temple. It is interesting to note that the term Kovil, which signifies temple in the Tamil language, is used by many Vaishnavas in reference to this temple, which signifies the importance of the Ranganathaswamy temple for them. Lord Ranganathar, the presiding deity of the temple, is praised by various names by his devotees such as "Nam-Perumal, "Azhagiya Manavalan" and his divine consort Ranganayaki is lovingly called as "Thayar" (Holy Mother).
Besides the chief shrine of Ranganathar, the Ranganathasway temple complex also houses shrines of various forms of Lord Vishnu such as Sakrathazhvar, Narasimhar, Rama. In addition to this there are dozens of other shrines, which are dedicated to some of the important saints of the Vaishnava tradition, such as Ramanujacharya. Everyday, thousands of devotees visit the temple to offer prayers. Worship goes on from morning till evening every day.
Festivals at the Sri Rangam temple, Trichy
The Aadi Bharam mahotsavam is celebrated in the month of Panguni while the great Adhyayanotsavam is performed in the month of Margazhi in the temple complex of the Ranganathaswamy temple at Srirangam.
How to Reach Sri Rangam/ Ranganathaswamy Temple
By Air
Trichy/Tiruchirapalli is well connected to cities like Chennai, Bangalore, Madurai, and Colombo. The Trichy airport is about 7 km from the city.
By Rail
Trichy/Tiruchirappalli is an important Railway junction of the Southern Railways. It connects many important cities and towns of South India such as Chennai, Thanjavur, Madurai and Chidambaram.
By Road
Trichy/Tiruchirappalli is well connected by road to Madurai, Chennai, Pondicherry and Thanjavur/Tanjore.