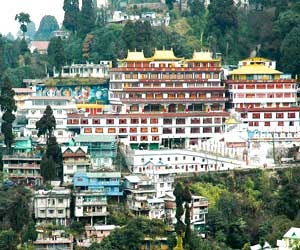 The city of Darjeeling boasts of an interesting cultural and religious diversity. People of several religions and cultures live here in peace and harmony. After Hinduism, Buddhism is the religion most popularly followed here. The architecture, culture, cuisines, costumes of Darjeeling reflects Buddhist influence to quite an extent. Darjeeling has a long association with this religion and this is evident in the large number of Buddhist monasteries established there. A trip to Darjeeling is incomplete without a visit to these monasteries. Let us explore more on the popular Buddhist monasteries in the Darjeeling city of West Bengal.
Buddhist Monasteries in Darjeeling
Dali Monastery
Druk Thubten Sangag Choling, or Dali Monastery, was founded by Kyabje Thuksey Rinpoche, a disciple of Drukchen Tenzin Khenrab Gelek Wangpo, the great monk of Drukpa Kargyud Lineage. The sole aim of this monastery is to safeguard the Buddhist religion and Tibetan culture. In 1993, at the inauguration of the monastery's new building, Dalai Lama - His Holy Highness - gave three days religious preaching there.
Bhutia Busty Monastery
Bhutia Busty belongs to the Red Sect of Buddhist Lamas. It is located at a distance of about 5 kilometers from Chowrasta. This monastery was earlier located on the 'Observatory Hill', before it was force out by the Nepalese, in the 19th century, and was reconstructed on the present site. In 1934, this monastery was destroyed once again, this time by an earthquake. It was the late king of Sikkim who helped reconstruct this monastery again.
Shakya Monastery
Situated about eight km from the major township of Darjeeling, in a place called Ghoom, there is a very old monastery called Guru Shakya Monastery. It is said to have been built around 1915. It is a historic and very important monastery of the Shakya Order.
Yiga-Choling Buddhist Monastery
Yiga-Choling Buddhist Monastery is located in Ghoom, about 8 km away from the major township of Darjeeling. Perched at an elevation of about 8,000 ft, it belongs to the Yellow Sect of Buddhism, which worships 'Maitreya Buddha'. This monastery was constructed by Lama Sherab Gyantso, in the year 1975.
Makdhog Monastery
'Makdhog' means 'warding off war'. Makdhog monastery was named so because it was built somewhere around World War I. The sole aim of this monastery is to safeguard the distinct social, cultural and ethnic identity of the Yolmowa community (a small cultural group originally a native of northeastern and later settled in Darjeeling). Makdhog Monastery was built by Sri Sangay Lama, a highly respected religious leader of the Yolmowas sect.