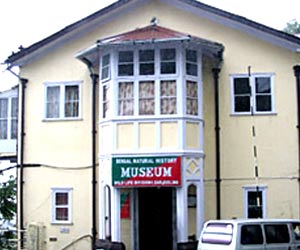 Location:
Darjeeling
Built In:
1903
Open:
All days, except Thursday
Timings:
10 am to 4 pm
There are numerous wildlife sanctuaries and botanical gardens in Darjeeling, which offer a glimpse into the colorful world of its flora and fauna. Bengal Natural History Museum in Darjeeling is one of them. Established in 1903, it provides visitors with a wonderful view of rich flora and fauna of the hill resort and its surrounding areas. This museum interestingly depicts the archeological proofs of the natural world and the evolution process of natural environment. It is the perfect place for naturalists, as it provides them a rendezvous with numerous exotic varieties of plants and animals.
Bengal Natural History Museum offers you an acquaintance with about 4300 specimens of Himalayan fauna, including a number of fauna indigenous to Bengal and Darjeeling. The popular sections at the museum include the blocks of fish, insects, birds, bird eggs, reptiles, butterflies and herbariums. The estuarine crocodile, a rare variety of crocodile, which is held responsible for the loss of many human lives in Asia, is also housed here. This place will be greatly liked by all those who love greenery and wildlife. Except for Thursdays, this museum is open for visitors throughout the week.