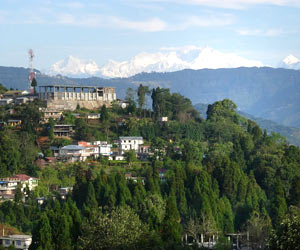 Darjeeling is an extremely beautiful city in itself, offering excellent scenic vistas of mountains, valleys, springs, lakes and colorful flora-fauna. The surroundings of the hill resort are also equally enchanting, refreshing and interesting. Rich in exotic varieties of plants, birds and animals, the excursions around Darjeeling include a lot of beautiful forests and wildlife sanctuaries. Small, beautiful hamlets around the hill resort, like Kalimpong and Kurseong, also enhance its importance as a tourist venue. In the following lines, we have provided information on the tourist places near Darjeeling, West Bengal.
Excursions From Darjeeling
Buxa National Park
Named after the Buxa Fort, situated nearby, Buxa Tiger Project is one of the newest Tiger Projects in India. It was established during early 1980s. Later, in 1992, the Buxa Tiger Project was given the status of a National Park. Situated in the lap of the Sinchula Range, this park is spread over an area of 759 sq km. Apart from being the abode of Royal Bengal Tiger; it also serves as home to several other wild animals, like leopards, cats, spotted deer, barking deer elephants and even squirrels.
Jaldapara Wildlife Sanctuary
Spread over an area of about 200 sq km, Jaldapara Wildlife Sanctuary is one of the most popular sanctuaries in the Dooars Valley. This wildlife sanctuary is renowned for being the abode of the endangered one-horned rhinoceros species. Apart from the rhino, Royal Bengal Tigers, elephants, various types of deer, pigs, bison and different types of cats and squirrels can be seen here. You can also get to see several exotic varieties of birds in Jaldapara Wildlife Sanctuary.
Lava and Lolegaon
Lava and Lolegaon are two small, picturesque hamlets situated near Darjeeling. Situated at an altitude of 7200 and 5500 ft respectively, these hill stations are blessed with heavenly serenity and mesmerizing beauty. Enveloped in mist and clouds and covered with tall pine and oak trees, the place stuns you with its beauty. After a few km of trekking above the Lava and Lolegaon, you reach a place called Tiffin Dara, from where you get to see unforgettable vista of sunrays glittering amidst the milky white snow above Kanchenjunga.
Chapramari Wildlife Sanctuary
Chapramari Wildlife Sanctuary is about 30 km away from Darjeeling. It is spread over an area of about 2,220 sq km and serves as the abode of several endangered animal and bird species. Elephants are most prominently seen in this sanctuary.
Kalimpong
The beautiful hill town of Kalimpong is situated approximately 56 km away from Darjeeling. It is perched at an elevation of 4,100 feet above the sea level. Apart from the gigantic mountains, lush greenery, natural streams and exotic flora-fauna, Kalimpong also offers many places of tourist interests. The Kali temple and Buddhist monastery situated here are certainly worth a visit.
Dooars Valley
Dooars Valley is an excursion that you must undertake, if you are in Darjeeling. Spread over an area of 130 km, this valley serves as the gateway to the hilly areas of Bengal and Bhutan. This valley houses several wildlife sanctuaries, including Jaldapara Wildlife Sanctuary, Chapramari Wildlife Sanctuary, Gorumara National Park and Buxa National Park. If you are in Dooars Valley, do not miss visiting Buxa Fort, Malbazar and Teesta Barrage.
Kurseong
Approximately 30 km from Darjeeling, there is a beautiful hill town called Kurseong. Situated at an altitude of 4864 feet, this town offers enchanting views of Himalayan mountains, valleys, flora and fauna. If you are in Kurseong, you must visit Eagle Craig's point, Deer Park, Forest Museum, Bhangzang Salamander Lake, Bagora, Giddapahar Seti Mata Temple and Ambootia Temple.
Senchal Lake
Senchal Lake is about 10 km away from the main township of Darjeeling. Situated at an altitude of 8,160 feet, it is very close to the Tiger Hill. This lake, fed by a little mountainous spring, is the source of drinking water for entire Darjeeling area. It also serves as a popular picnic spot.
Mirik
About 49 km from Darjeeling, Mirik is a beautiful hamlet, loved for its serene and peaceful environment. This place is famous for its Sumendu Lake. The popular ways to spend your leisure time here are boating and fishing. This place is also known for its beautiful orchards and beautiful tea gardens.
Sandakphu
About 58 km from Darjeeling, Sandakphu is a trekker's paradise. It is the only place from where one can see four of the five highest peaks of the world, namely, Mt. Everest, Kanchenjunga, Makalu and Lhotse.