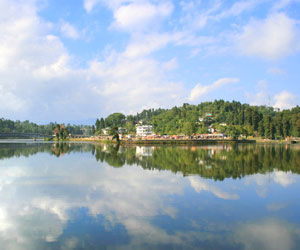 Mirik is a beautiful hamlet, nestled amidst the eastern Himalayas, in Darjeeling. The place offers abundant natural beauty, a salubrious weather and serene atmosphere to the tourists. Located at an elevation of about 4904 feet, this place is about 55 km from Siliguri and 50 km from Darjeeling. The beautiful forests of pine, cardamom and oranges, along with the wild flowers, adorn the lanscape of Mirik. Blooming apple orchards and flowering tea gardens are the other major attractions in Mirik. It is an excellent picnic spot and offers pleasant sight seeing opportunities as well. The natural beauty of Mirik is enough to enliven one with spiritual and natural energy.
Mirik is basically known for its Sumendu Lake. Located in the heart of this small hamlet, it is a manmade lake, amidst the forest ridge. This lake is embellished by a flower garden and a floating fountain. The magnificent vista of Mt. Kanchenjunga and other Himalayan peaks, forming the backdrop of the lake, is indeed unforgettable. The beautiful garden, on one side of the lake, and pine trees, on the other, are connected by an arch-shaped bridge, named 'Indreni Pul', which means the "Rainbow Bridge". A 3.5-km-long road around the lake is best if you love taking silent walks, appreciating the beauty of nature. Apart from boating on 'Shikaras', you can also opt for fishing or a pony ride here.
Tourist Attractions of Kurseong
Other than Sumendu Lake, the major attractions of Mirik are:
Devi Sthan
Devi Sthan is a beautiful temple situated under the dense foliage of the 'dhupi' forest. It is considered to be very auspicious by the locals and is surely a must see for all the tourists visiting Mirik.
Deosi Dara and Rameetay Dara
Deosi Dara and Rameetay Dara are the two popular vantage points of Mirik. From these spots, you can actually get to see some spectacular views of sunset and sunrise. The views of plains, hills and peaks, from both these places, are purely wonderful.
Rai Dhap
Rai Dhap is a beautiful picnic spot in Mirik, adorned by a small lake. This lake also serves as the source of potable water in the town.
Tea Gardens
The tea gardens in and around Mirik also attract tourists. These beautiful gardens not only impress tourists with their scenic beauty, but some of them also sell their premium quality tea on spot.