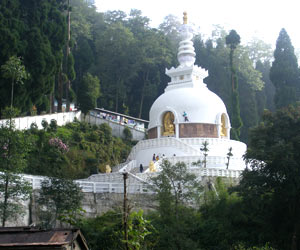 Location:
Darjeeling, West Bengal
Built In:
November 1972
Built By:
Nichidatsu Fujii
Japanese Peace Pagoda is one of the most popular attractions in the Darjeeling city of West Bengal. It is one of those Peace Pagodas (Buddhist stupas) in the world that have been established with the aim of creating a special niche for enlightening people from all religions, creeds and origins, to come together and work for world peace. It was build under the supervision of a Buddhist Monk, Nichidatsu Fujii, who was also the founder and preceptor of Nipponzan Myohoji, a Buddhist order for word peace.
The foundation stone of the Japanese Peace Pagoda in Darjeeling was laid down by Fujii himself, on 3rd November 1972. However, this Pagoda was inaugurated after his death, in 1992, by his senior most disciples. Nichidatsu Fujii, popularly known as Fujii Guruji, was also a close associate of Mahatma Gandhi. Perturbed by the tragedy that followed the dropping of atom bombs in Hiroshima and Nagasaki, in 1945, Nichidatsu Fujii pledged to teach the world the importance of non-violence, goodwill and harmony.
Japanese Peace Pagoda of Darjeeling comes across as one of Fujii's efforts to teach world a lesson of spirituality and peace. It was designed by Dr M Ohka of Japan. This pagoda, which is 28.5 meters long and 23 meters in diameter, still stands as a sacred symbol of harmony and brotherhood, inspiring the entire world. The only motive of this sacred testament is to establish unity, harmony and goodwill amongst people belonging to different sects of society. Whenever you happen to visit Darjeeling, make sure to pay a visit to this 'peace monument'.