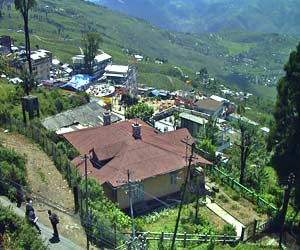 Located at an altitude of 4864 ft, Kurseong is a beautiful hamlet in Darjeeling district of West Bengal. The serenity, cleanliness and beauty of this place, away from the hush bush of commercialized hill stations, are indeed very refreshing. Away from the crowd of seasonal tourists, this place offers you a calm and peaceful holiday. Kurseong is basically known for its premium tea gardens, which include Castleton, Makaibarie, Ambotia and Goomtee. The tea from these gardens is exported to foreign countries and sold at very high price. Taking a silent walk in the scenic lanes of Kurseong is indeed a mesmerizing experience. March to May and August to October are the best times to visit this place.
The name Kurseong has been derived from the word "Kharsang", meaning "Land of the White Orchids", in the Lepcha language. As its name suggests, plenty of white orchids can be seen in this town. Kurseong was annexed to the British Empire in 1835. However, its development as a tourist destination began in 1880s only. Due to its clean atmosphere and salubrious weather, this place was considered to be the perfect destination for sick to recuperate. Till date, the economy of this place largely depends on tourism sector. Kurseong, despite being a small city, is the seat of several reputed educational institutions. St. Mary's School, St. Helen's School for Girls, Victoria Boy's School and Himali Boarding School are the most renowned schools in the town.
of the most famous vantage points in Kurseong, Eagles Craig offers you some unforgettable view of hills and plains. Then, there is the Darjeeling Himalayan Railway, connected to Kurseong in 1880. Here, the train runs on level with the street and interestingly, you can shop without actually leaving your seat. The experience of the toy train ride around this city is unforgettable. The journey, enveloped in mist and fog, will be surprisingly pleasing for you. As the fog and cloud disappear, you will be dazzled by the sight of one of the world's largest peaks - Mt. Kanchenjunga. In Kurseong, the beauty of hills, tea gardens, natural springs and old British buildings will keep you preoccupied. It would be the best destination whether you are planning a honeymoon or a leisure break.
Tourist Attractions of Kurseong
Ambhotia Shiva Temple
Around 5 km from the main township of Kurseong is a famous Shiv Temple, situated within Ambotia Tea Estate. A very famous temple, it is visited by people from neighbor countries, like Bhutan, Myanmar and Nepal, as well.
Giddapahar Mandir
About 2 km away from Kurseong, there is Giddhapahar Mandir, one of the most revered temples in the hills. It has Lord Shiva as its presiding deity and serves as the venue of a grand fair, held here on Mahashivratri.
Jagdish Mandir
Jagdish Mandir is 300-years-old temple, situated on the Bank Road that falls on on the way to Eagle's craig. The presiding deity of the temple is Lord Jagannath, form of Lord Vishnu.
St. Paul's Church
St. Paul's Church is one of the oldest churches in Kurseong, located on Hill Cart Road, Near St. Joshephs School.
Buddisht Gomphas in Montieviot and Dowhill Road
The Buddisht monasteries in Montieviot and Dowhill Road are surely worth a visit on a trip to Kurseong. Serving as museums in themselves, these monasteries will help you learn a lot about Buddhist culture.
Eagle's Craig
Eagle's Craig is a famous vantage point in Kurseong. Here, one can get to see mesmerizing views of the surrounding mountains, hills, hamlets and slopes. Eagle's craig also houses the water reservoir for the entire Kurseong. The area boasts of a cafeteria, a watch tower and a flower garden.
Tea Gardens
Kurseong is the home to one of the finest varieties of Darjeeling Tea. While in the town, you must make sure to visit Castleton, Makaibari and Ambootia Tea Estates.
Deer Park
Deer Park is located in the Dow Hill area of Kurseong. As you can assume, it is named so because of the abundance of deer found in this park. It comes under the jurisdiction of the State Forest Department.
Khola Waterfalls
There are beautiful water falls and springs in Kurseong, known as 'Kholas' amongst the localities. You can visit the beautiful Darey Khola and Hussain Khola, when in Kurseong.