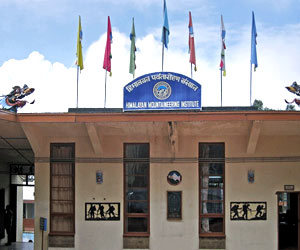 Location:
Jawahar Parbat, Darjeeling
Built In:
1954
Himalayan Mountaineering Institute (HMI) was established in Darjeeling, as a step to organize the growing craze in the filed of mountaineering, after the ascent of Tenzing Norgay on Mt. Everest. This institute was founded in 1954, at the personal initiative of Pt Jawahar Lal Nehru, the first Prime Minister of India. Tthe institute was initially located at Roy Villa, on Lebong Cart Road. It was shifted to current location, on the western spur of Jawahar Parbat, in 1958 and today, it stands perched at an altitude of 6,800 ft. The first principal of this institute was Late Major N.D. Jayal and its first Director for Field Training was the legendary mountaineer, Tenzing Norgay.
In the first 50 years of its existence, HMI imparted training to more than 24,000 students, including around 1000 students from foreign countries. The training imparted at this institute is not aimed at producing ace athletes or gladiators. Rather, the sole aim of Himalayan Mountaineering Institute is to produce a disciplined and good human being, with a broad perspective towards life. The institute also tries to inculcate the values of ecological protection, love for nature, care for flora & fauna and respect for cultural diversity. HMI became the first institute to break the myth that woman could not sustain in activities like mountaineering, when it started a special batch for women, in 1961.
Himalayan Mountaineering Institute offers 16 different courses to students, to choose from, which also includes the 'Basic Mountaineering Course for Beginners'. The courses are conducted during the months of January, February, April, May, November and December every year. The admission is strictly done on a 'first cum first serve' basis. Other than courses for normal and physically fit candidates, there are special courses and batches for physically challenged candidates as well. The students of many renowned schools, based in different parts of India, also come here for vacation training in adventure courses.
Apart from the training institute, HMI also owns the oldest mountaineering museum of the country. This mountaineering museum, established in 1957, serves as a centre for research on mountaineering activity for the trainees and research scholars. It has a wonderful collection of paintings, sculpture, photographs, scripts, autographs, books and mountaineering equipment of famous mountaineers. The museum has two sections - The Main Museum and Everest Museum. The Everest section gives the chronological records of discovery of Everest and the attempts to undertaken to climb it. The institute and the museum are major attraction spots for tourists in Darjeeling.