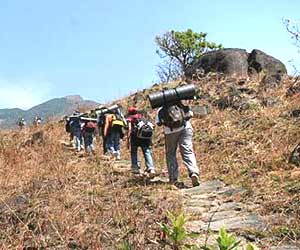 Blessed with lush greenery and salubrious weather, Darjeeling not only provides peace and rejuvenation to the mind and soul of a person, but also offers him the opportunities of wild adventure and sheer fun. It is said that Darjeeling was the first place in India where trekking expeditions came into fashion. About 80 years back, this art was pioneered in Darjeeling, by Mr. Jesuit Rev.Fr Macdonald. Since then, the hill resort has become one of the most preferred destinations for adventure lovers. Trekking amidst the unscathed serene beauty of the Eastern Himalayas, in Darjeeling, surely has its own pleasure.
Trekking Seasons
There are two popular trekking seasons in Darjeeling. The first season begins around March and closes in the first week of June, before torrential monsoon rains make it dangerous. The best part of trekking in this season is the occasional dribbling shower, which makes the journey all the more refreshing. The second season begins around last week of September and stretches until the end of December. The best part of trekking in this season is the magnificent vistas of snow-clad mountains, one can see on the way. However, the trekking in this season becomes a little difficult, due to extremely chilling weather and occasional snowfall at high altitudes.
Popular Treks
There are two most popular treks in Darjeeling - Sandakphu Trek and Neora Valley Nature Reserve Trek. Sandakphu Trek offers mountain trail from Mane Bhanjyang to Sandakphu and on to Phalut and Rimbik. In this trek, you will get to see magnificent views of the Kanchenjuna, Makalu and Everest peaks. You will also get to visit Singalela National Park and the famous tea gardens of Darjeeling, on this trek. Noera Valley Nature Reserve trek offers views of one of the last remaining pristine ecosystems of the Eastern Himalaya. This trek takes you through colorful flora-fauna, beautiful hamlets, cardamom farms, gushing streams and gorgeous waterfalls and is, indeed, a cherishing experience.
Some Tips
The trek altitude in Darjeeling ranges from 1000 meters to 4000 meters, so while trekking here, do not forget to carry woolen clothes, like heavy pullovers, windcheaters, woolen caps, gloves, etc. A raincoat is also compulsory, because a drizzle or snowfall is unpredictable at such high altitudes. It would be advisable to wear Hunter boots, as only they can tolerate the rocky uneven mountain surfaces. Carrying a light sleeping bag, with foam mattress, is also worthwhile. Other than the basic trekking equipments, do not forget to carry light snacks and mineral water with you, as there are certain places uphill where you may not get these things.