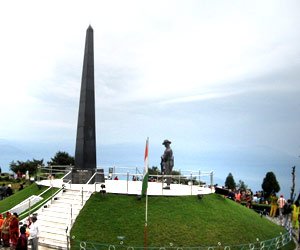 Location:
Darjeeling, West Bengal
Opened In:
March 1995
The War Memorial stands as a reminiscence of the Gurkha martyrs of Darjeeling, who sacrificed their lives for their country in the wars and operations that have taken place since independence. In 1976, Manish Gupta, the then Deputy Commissioner of Darjeeling, took the initiative to construct a War Memorial, to pay homage to the 76 brave sons of Darjeeling who gave the supreme sacrifice of their life, for the cause of their nation.
After Gupta's initiative, a committee was formed and Batasia was selected as the site of the War Memorial. On 22nd March 1995, the War Memorial of West Bengal was inaugurated and opened for public. The memorial comprises of a holy elevated oval platform, 37' x 24', with a 9-feet high bronze statue and a 30 feet high triangular cenotaph, made of granite. The Roll of Honor has been engraved on an octagonal stand, of about 3 feet.
Photography is not allowed on the sanctified mound in the War Memorial. One can also see this memorial while on the famous Darjeeling Toy Train, as it goes around this place, on a circular path. The entry fee for this sacred testament is merely Rs. 5. War Memorial should be on your must-visit list on a trip to Darjeeling, to pay homage to those brave hearts of this beautiful land who laid down their life for the safety and security of their fellow Indians.