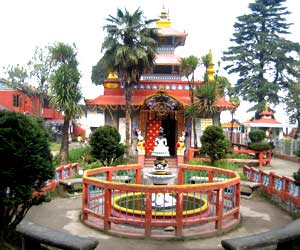 Location:
Besides Darjeeling Railway Station
Built In:
1939
Built By:
Rai Saheb Purna Bahadur Pradhan
The beautiful city of Darjeeling is also known for its cultural diversity. People of almost all religions live here, amidst peace and harmony. Hinduism is the most popularly followed religion, followed by Buddhism. The hill resort is full of several Buddhist monasteries and Hindu shrines. Dhirdham Temple is one of the most popular Hindu temples in Darjeeling. Located besides the Darjeeling railway station, the temple has Lord Shiva as its presiding deity
Dhirdham Temple is regarded as one of the most sought-after tourist attractions in this city. The temple was built in the year 1939, making it one of the oldest Hindu shrines in the city of Darjeeling. It was constructed by Rai Saheb Purna Bahadur Pradhan. The temple has been designed by a Gorkha architect, named Beg Raj Sakya, who was inspired by the architecture of the Pashupatinath Temple in Kathmandu, Nepal.
The roof of Dhirdham Temple shows influences by the Tibetan style of architecture. There is an idol of Lord Shiva outside the premises of the main temple. It depicts the third eye of Lord Shiva, along with His five different facial expressions, representing Him in different moods. The idol is known as "Pancha Bakram Tri Netram". Every day, an aarti is held at Dhirdham temple, at 8 in the morning and 6 in the evening.