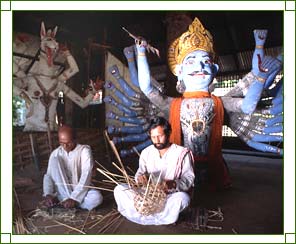 The state of Assam has a rich and ancient history, the foundation of which can be found in the Vedic and Tantric literature, Assamese folklore and Buddhist literature. There has been a confluence of people of the Indo-Aryan, Austro-Asiatic and Tibeto-Burman origin in the state and this has led to the currently existing blend of culture and tradition therein. Through the manuscripts and medieval texts found in the different regions of the state, there have been several attempts by historians to reconstruct the prototype of the history of Assam.
The history and origin of the Indian state of Assam is believed to have mythological roots. In fact, the earliest mention of the area can be found in epics like the Mahabharata and other such religious legends, apart from two medieval texts - the Kalika Purana and the Yogini Tantra. The earliest inhabitants of the region were believed to have lived in the Middle Pleistocene period, around 126,000 years ago, in the Rongram valley of Garo Hills.
Assam was originally called Pragjyotishpur or Kamrupa, during the period of the epics. The historical account of the state begins in the early part of the 4th century, with the establishment of the Varman Dynasty of Pushya Varman. This dynasty is said to have an aboriginal origin, with links to Narakasura. This was followed by the Mlechchha Dynasty of Salasthamba, which continued till the later part of the 9th century. Following this, a new ruler, Brahmapala was elected, leading to the establishment of a new dynasty called the Pala Dynasty. Due to the fall of subsequent rulers and dynasties, the kingdom of Kamrup finally came to an end in the 12th century A.D.
The rise and fall of kingdoms like the Khen Dynasty, Koch Dynasty and the Kachari and the Chutiya Kingdoms was seen in medieval Assam. During this era, a major kingdom called the Ahom Kingdom evolved, which revolutionized the entire cultural and traditional scenario of the state. The end of this era saw the invasion of the state by the Burmese and their subsequent defeat during the early part of the 19th century. Finally, after the signing of the Treaty of Yandaboo, the control of Assam came under the hands of the British, which marked the onset of British rule in the state.
The British set out to organize the administration, transport, and communication systems within Assam. Some of the major changes that came during the colonial rule include the construction of railways, establishment of tea plantation areas and discovery of coal and oil. However, in the post independence period or post-colonial rule, Assam saw the separation of territories, like the partition of Arunachal Pradesh in 1948, Nagaland in 1963, Meghalaya in 1972 and Mizoram in 1987. The population of Assam mainly comprises of the migrants from Burma and China, thus presenting a fusion of Mongol-Aryan culture.