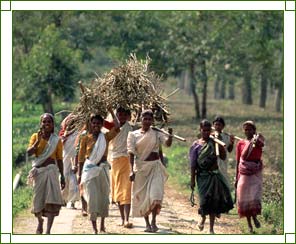 According to the Census Report of 2001, the total population of Assam is 26,638,407, which constitute about 2.59% of the total population of India. The vast numbers of people residing in the state live in a multi-ethnic and multi-religious society and speak languages belonging to three major groups: Austro-Asiatic, Tibeto-Burman and Indo- Aryan. Assam is often regarded as the melting pot of a large number of ethnic tribes and races, living together in an environment of harmony and peace.
The people of Assam are known for their hard working nature and their simplicity. Although their dialects, lifestyle and traditions vary, there is a sense of togetherness that binds them. Caste system has never taken firm roots in the social stratification of the state. Nevertheless, there are 16 Scheduled Castes and 23 Scheduled Tribes within the state, with proposal for the inclusion of more ethnic groups in the two categories still waiting for the approval of the Centre.
The vast sections of people residing in the state comprise of the descendents of Austro-Asiatic, Dravidians, Mongoloids and Aryan migrants, which penetrated the state through different routes or are a result of the fusion of this stock with other racial groups. The Austro-Asiatic were one of the earliest to move into this valley, but were subsequently pushed to the hills due to the entry of migrants from other parts of the world. Next came, the Dravidians, followed by the Mongoloids of the Tibeto-Burman family.
The present day Kacharis, Kukis, Dimasas, Bodos, Rabhas and Lalungs are considered to be the descendents of Tibeto-Burman family. The major religions that are followed by the people in Assam include Buddhism, Christianity, Hinduism, and Islam. Among the minorities, the Bengali speaking Hindus and Muslims make the largest percentage of population, followed by the Nepalis and then the immigrants that have come from the neighboring areas of India.