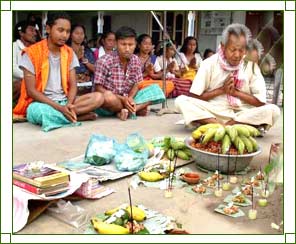 Religion is an integral part of any community or society, necessary for its development. It is often considered as an organized approach for leading a fulfilling and happy life. The religious community of Assam mainly comprises of Hinduism, Islam, Christianity, Sikhism and Buddhism. Apart from this, various indigenous groups also follow Animism, Tantricism, Brahminism and Vaishnavism. Despite such vast differences in their religious faiths and beliefs, all the people within the state live in perfect peace and harmony with each other. All the festivals, whether it is Durga Puja, Id-ul-Fitr or Christmas, is celebrated by all with equal zeal and fervor in the Indian state.
Hinduism, being the major religion in Assam, comprises about 64.9% of the total population, according to the Census Report of 2001. The pristine form of this religion started when the Aryans came to this region. Originally, the Assamese were practicing the rituals of Tantricism, before the advent of the Neo-Vaishnavite culture founded by Srimanta Shankardeva (1449-1568). The latter form of worship emerged in the state during the 15th century AD and comprises of a major portion of the religious beliefs of the Assamese people at present. The state, in general, has always been an open-minded society, in terms of liberalism.
There are followers of Durga, Kali, Saraswati and the Vaishnavite culture in Assam. Among the various temples present in the state, the Kamakhya Temple needs special mention. The temple is dedicated to Goddess Durga and is an important pilgrimage spot of the state. Muslims comprise of the second largest religious group in the state and comprise about 30.925 of the entire population. The Powa Mecca in Hajoan is important pilgrimage centre for the Muslims and is visited by thousands of devotees and followers all round the year. Besides this, there are numerous mosques located in the state and many Muslim festivals are celebrated by the people with traditional flavor.
Christians also form a sizeable population of the state (3.75%) and several churches are located here. Assam, initially, had a large number of tribes following the customs and rituals of Animism, along with elements of Hinduism. But, in recent times, many such people have adopted the customs and doctrines of Christianity. A major aspect of the religious scenario of the state is the emergence of the Brahmo Samaj, propagated by the Bodo Hindu, Kalicharan Mech. He later became known as 'Guru Brahma' or 'Gurudev Kalicharan Brahmachari'. Due to his teachings, the Bodo Brahmas (Bodos who follow this sect) gave up alcohol, heavy dowry and even meat eating.