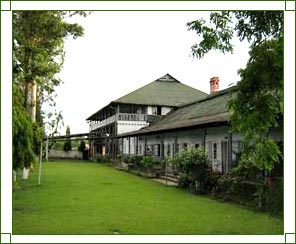 Location:
Jorhat
Built In:
1876
Highlights:
Facilities for tennis, billiards, bridge, races, flower balls, seasonal balls, and bars; 9-hole golf course
Jorhat is regarded as the nerve center of the tea industry of India. During the 1860s and 1870s, the entire city was gradually dotted with a number of tea gardens. Due to the dull and lonely life at the plantation sites, the planters decided to set up a club in the area. In 1876, the planters, led by the Superintendent of the Jorhat Tea Co. - J. Huttman, constructed a club and racecourse in the state. The original Gymkhana Club was only a quaint little woodhouse, situated in the middle of the racecourse, about 2 km to the east of the present building.
The racecourse in which the club was situated also served the purpose of camping and parade ground for the Assam Light Infantry Brigade. So, for the purpose of privacy, it was decided to shift the club to some other location. The present clubhouse was constructed in the year 1885, offering a wide range of socio cultural activities, sports and recreation, including includes tennis, billiards, bridge, races, flower balls, seasonal balls, and bars. With time, the Gymkhana Club of Jorhat came to be renowned all across India and became a major tourist attraction of Assam.
Gymkhana Club has a lush green 9-hole golf course. This is regarded as the world's third oldest golf course and as such, is vying for a place in the list of the UNESCO's World Heritage Sites. Apart from this, the other attractions in the club include swimming pool, polo and a cinema theatre. The club boasts of being a famous venue for holding a number of matches, like the CK Naidu Cricket tournament matches, the Tea Tourism Festival (2002) and horse races. A major trophy awarded here every year is the "Governor's Trophy".
Gymkhana Club rests over a vast expanse of land of 180 bighas and has been well maintained for the last hundred and twenty years. The road in front of the club was the first asphalt road constructed by the British people, to connect the Jorhat centre with the Gymkhana. Initially the place was out of bounds for Indians, but in 1929, Indian membership was finally passed at the Annual General Meeting (a vote of 29 for and 14 against). Today, the clubhouse, along with the racecourse, stands as a living testimony of the rich culture and history of its members and of Assam as a whole.