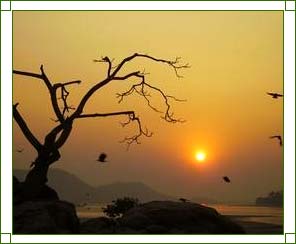 If you are visiting Jorhat for the first time and wondering about the weather and climate of the place, leave all your worries aside. The city enjoys a moderate climate throughout the year. The month of November is especially pleasant and is regarded as the best time to visit the place. Moreover, this time also coincides with the Rasleela festival, which is celebrated with great pomp and show all over the city. Besides this, April is also a good month to visit the place, as the spring festival of Baisakh is celebrated during this month. The city of Jorhat is situated at 26.45°N and 94.13°E and at an elevation of 116 meters. The seasonal calendar is basically divided into 4 seasons - summer, winter, autumn and monsoon. Let us get detailed information on the weather and climate of Jorhat.
Summer
In Jorhat, summers last from April to June and are usually hot and humid. However, occasional showers usually lower down the average temperature during this season. The usual mercury reading during this time of the year is around 15 to 28
o
C.
Monsoon
Summer is followed by the monsoons. The city receives an average annual rainfall of 2244 mm and a major portion of this is contributed by the north-west monsoons. Though this weather is favorable for the cultivation of crops, it sometimes tends to create problems like water logging.
Autumn
At the end of the monsoons, the pleasant season of autumn prevails, mainly in the months of September and October. It is one of the best times to visit the city, as the weather is extremely pleasant.
Winter
The winter starts from the month of November and extends up to the end of February. The average temperature during this time ranges from 7
o
C to a maximum of about 18
o
C. The typical characteristics of this season are scanty rainfall and foggy or misty mornings and evenings.