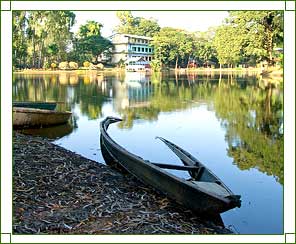 Location:
Centre of Tezpur
Built By:
Mr. Cole
Built In:
1906 AD
Highlights:
Water sports, walkways, restaurant, open air stage
Located in one of the most beautiful and legendary places of Assam, the Cole Park attracts a host of travelers and nature lovers every year. This park was established by Mr. Cole, a Commissioner of Assam under British rule. It was later renovated by Mr. M.G.V.K. Bhanu, the deputy Commissioner of Tezpur, in 1996. Cole Park is definitely one of the most picturesque spot of Assam. Set amidst innumerous hillocks, terrains and lakes, the park is the center of a number of recreational activities and fun sports. The place has also been the venue for exhibitions and competitions since a long time.
Recently renamed as Chitralekha Udyan, Cole Park has a small water body as well, where rowing, paddle boats and such other water sports are allowed. Besides this, there are also a restaurant and an open air stage within its premises. Two massive ornamented stone pillars and sculptural remains of the famous Bamuni hills of 9th and 10th century are the major architectural attractions of the park. The entire park, with its horseshoe-shaped lake and walkways, is undeniably one of the most beautiful places in the whole of Tezpur and presents an even more heavenly sight in the evening, when the lights are switched on.
The famed inscriptions of Bhomoraguri, which stored the ancient plans of a bridge across the Brahmaputra (where the current Kolia Bhomora Setu exists), have been transported to this park for public viewing. Kolia Bhomora Setu is a pre-stressed concrete road bridge over the Brahmaputra River near Tezpur in Assam. This bridge has been dedicated to Kolia Bhomora Setu, who was a famous Ahom General of the state of Assam. Situated in the center of Tezpur, Chitralekha Udyan is surely a great place to relax and loosen up in Tezpur.