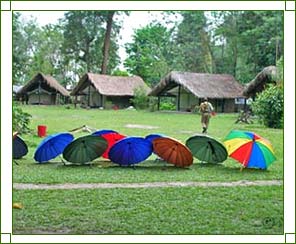 Location:
Banks of river Jiya Bhoroli, Tezpur
Established By:
The Assam Anglersí Association and the State Forest Department
Highlights:
Outdoor recreational activities
Around 50 km from the center of the Tezpur city of Assam, off the road to Arunachal Pradesh, is the unique Eco Camp, which can be reached by a short drive over creaky bridges and a dirt tract. This is one of the most favorite excursions and outdoor recreational sites around the city of Tezpur and is the outcome of the united efforts of the Assam Anglersí Association and the Forest Department of the state. Situated on the banks of the river Jiya Bhoroli, the park is also located close by the famous Nameri Tiger Reserve of Assam.
The prime event organized in the camp, which attracts adventure seekers from far and wide, is the white river rafting, against the divine backdrop of lush forests and snow capped mountains. This is a very popular way to enjoy the river and also to see some rare birds found commonly in this part of the world, like the Ibis Bill and the Long Billed Plover. During this time, people and tourists also try their hand fishing, for the elusive and rare golden Mahseer fish, a dweller of the waters. In fact, this event is part of an ecological campaign to save this endangered species.
In the fishing event, a part of this river is sheltered and protected. The fish are caught by people and then finally are released in the water, in order to stabilize their declining numbers. Besides this, angling is also sponsored by the angling camp situated in the place in season and that too at very reasonable rates. The camp also provides accommodation facilities to the visitors, along with food and such other basic amenities. So, if you are an adventurous and fun loving person, then the Eco Park in Tezpur is the ideal place for you.