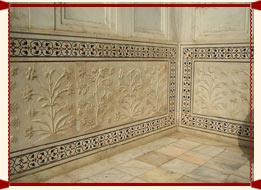 Agra, the city of Taj is also popular for its arts and crafts industry such as leather, Zardozi and marble. Among these, Marble work naturally has an edge over all of them. It is in fact not be an aberration to say that the marble rules and signifies the city of Agra. From mausoleums to smaller fine artifices, marble has left deep impressions on the city of Agra. The secret behind the success of these crafts is the continuous contribution and improvement from the time of Mughal rulers till this time. The craft is sort of hereditary in nature and has passed from generations to generations. These wonderful works of craftsmen are displayed and merchandised in showrooms all over the Agra.
The most popular item of the marble is the replicas of Taj Mahal that have been produced and sold in Agra for years. In fact, this miniature is the lifeline of the city of Taj and has kept the ancient craft thriving in the region. Apart from that, the marble inlay work is also very popular. Good artisans are invited all over the world and places as far as Italy to show their talent. In this art various floral and geometric patterns are created with the help of precious and semi precious stones. The stones are inlaid in Indian marble, black marble and Indian Jade.
Artifacts of different shapes are very popular among both domestic as well as foreign tourists in Agra. These artifacts such as vases, plates, trays, coaster sets, ornamental boxes, decorative pieces and tabletops etc. can be found in numerous showrooms located in the markets around the Taj such as Sadar Bazar, Munro Road and Kinari Bazar. Apart from the artifacts, the most prominent decorative items are the statues and busts of Indian Gods and Goddesses with finely carved facial expressions.