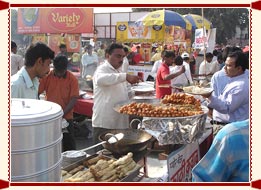 Agra being an important tourist destination has no dearth of eateries. From the posh looking star grade restaurants to fast food giants, the city seems to have all. Nearly all the star grade hotels have good in-house restaurants that serve a range of food to the tourists. So it's entirely up to you to choose your eatery as per your taste and budget.
Mandarin in Hotel Ashoka is your best bet at Chinese. The restaurant serves some very good sizzling dishes from both Mainland China as well as places like Taiwan, Macao and Hong Kong. Taj Khema and Olive Garden are the best in town among those who offer good continental stuff. Both these restaurants boast off some very good chefs who offer quite a range of dishes on the platter.
Shish Mahal and Navaratna at Hotel Man Singh and Mogul Sheraton respectively offer good local cuisine. While the former has an edge in Awadhi cuisine, the later offer some of the best Mughlai and Peshawari dishes. Dasha Prakash is your best bet as far as South-Indian cuisines are concerned.
Apart from that, the city has the presence of nearly all the major fast-food giants. Notable among these are Mc Donald's, Café Coffee Day, Pizza Hut, Papa John's, Pizza Corner and Dominos among others.