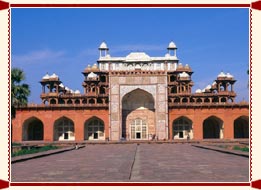 Excursions around Agra are no less interesting than the Agra itself. Excursions from Agra include Sikandra, Fatehpur Sikri and Bateshwar. All these places are well under 80 Kilometers from Agra therefore one need not stop at these places at night. A single day trip is sufficient for them.
Sikandra
Akbar' s tomb at Sikandra is a magnificent example of blending of different styles of architecture. It marks a considerable departure from the earlier Mughal buildings. The tomb carries the characteristic flavor of the airy tiered pavilions of the Agra Fort and Fatehpur Sikri. The tomb of Akbar, though Islamic in spirit, is a blend of styles. The magnificent entrance, use of exquisite patterns, excellent Jaalis, fine Persian style calligraphy and the Char Bagh garden layout etc. are representative of Islamic influence. On the other hand, the absence of a dome and use of canopies reflect the local influence.
Bateshwar
Bateshwar is a dusty town situated nearly 70 kilometers from downtown Agra. An otherwise sleepy town, Bateswar, an important spiritual and cultural center, comes to life in the month of November every year. It is when the annual cattle fair is held here. This enormous cattle fair is held at the banks of Yamuna in the 'Kartik' month of Hindu calendar. Nevertheless, the fair is not the only draw for the tourists. Apart from that there are as many as 108 temples of Shaivite sect at the banks of Yamuna.
Fatehpur Sikri
Fatehpur Sikri was the imperial city of the Mughal dynasty between 1571 and 1584. Fatehpur Sikri is actually a historical capital city made out of twin village of Fatehpur and Sikri that are situated 45 odd kilometers from the city of Agra. The city is situated amidst barren ridge. Emperor Akbar established this city, to serve jointly with Agra, as the imperial capital of Mogul empire. The story of this 4 centuries old city is no less interesting than the city itself.