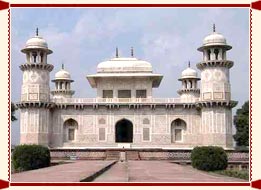 Itmad-ud-daula has a special place in the chronicles of both history as well as architecture. This is precisely because Itmad ud Daula is the very first tomb in India that is entirely made out of Marble. This is actually a mausoleum that overlooks the River Yamuna and is a tomb of Mir Ghiyas Beg, a minister in the court of Shah Jahan.
Itmad-ud-daula is a pure white and elaborately carved tomb that conforms to the Islamic style of architecture. The Indo-Islamic architecture becomes prominent because of the fusion that this tomb displays. While the use of arched entrances and octagonal shaped towers signify the Persian influence, the absence of a dome and the presence of a closed kiosk on top of this building and the use of canopies talks about the possible Indian influence. From out side, when you take a bird eye view, Itmad-ud-daula looks like a jewel box set in a garden. This tranquil, small, garden located on the banks of the Yamuna was to inspire the construction of the Taj Mahal in the later years.
The story of Itmad-ud-daula is an inspirational rag to riches saga. Ghiyas was a very poor merchant of the then Persia who migrated to India in search of livelihood. His wife gave birth to a daughter whom he wanted to abandon for he has no money to feed her but the persistent wails of the infant changed his heart. In the time being he got a place in the court of Akbar. Due to his hard work and honesty he rose to the position of treasurer and later a Wazir in the reign of Jahangir. Jahangir fell in love with his widowed daughter who processes unspeakable beauty. She was later christened Noor Jahan and went down in the history as one of the most beautiful and artistically gifted women in the world. Jahangir conferred the title of Itmad-ud-daula or 'Pillar of the Empire' to his father-in-law. Noor Jahan ordered the tomb after the death of her father in 1622.