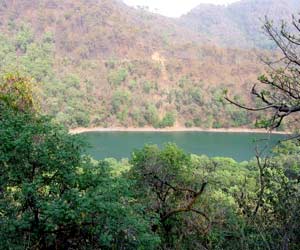 Nainital is a beautiful place with even more beautiful treasures hidden away behind the veil of tranquil nature. There are lot of excursions near Nainital which can be fun as well as enriching for both children and adults. Below is a list of excursions around Nainital for your reference.
Bhowali
Located 1, 706 m above sea level, Bhowali is approximately 11 kms away from Nainital. This is basically a highway intersection connecting each and every hill stations in close proximity to Nainital. This place is well-known for its picturesque splendor, the hill fruit market and its T.B. sanatorium established in 1912.
Sat Tal
Sat Tal is located at around 23 kms from Nainital. It is by all accounts an unforgettable spot with its huge and ancient Oak trees amidst the group of lakes. It is often compared to the Westmoreland area of England.
Bhimtal
Bhimtal is located about 22 kms from Nainital and 11 Kms. from Bhowali. One can see the 17th Century Bhimeshwar temple, the 40 ft high dam and the boat in the Bhimtal Lake.
Mukteshwar
Mukteshwar is beautiful place located at an altitude 2, 286 m and approximately 51 kms away from Nainital. It is surrounded by fruit orchards and thick coniferous forest and an excellent picnic spot.
Ranikhet
Ranikhet is a peaceful hill station 60 kms away from Nainital. It is the headquarters of Kumaon Regimental Centre of Indian Army. Ranikhet has many times been mentioned in Hindi literature.
Kausani
This place is famous for the Anashakti Ashram where Mahatma Gandhi stayed for a fortnight. He was so impressed that he wrote a commentary on Anashakti Yoga. Literary giant Sumitra Nandan Pant was also born here.
Naukuchiya Tal
Naukuchiya Tal is an appealing cavernous spotless lake situated 26 kms from Nainital. The dimensions of the lake are 983 m (length), 693 m (breadth) and 40.3 m (depth) providing sufficient possibilities for rowing, paddling or yachting.