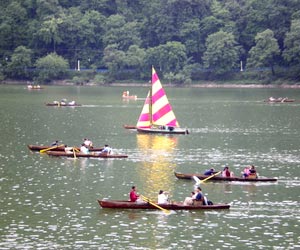 Nainital, located at the Kumaon foothills of Uttarakhand, has been luring tourists with its immaculate beauty since ages. Surrounded by three towering peaks, Naina Peak, Tiffin Top and Snow View, this quaint little hill resort promises to take you miles away from the hubbub of city life and enjoy some time in peace and solitude. In case you are one of those who want to indulge in adventure, then also Nainital will not disappoint you. It offers plethora of adventure sports options, for those who want an adrenaline rush. Through this article, know all about what to do and see in Nainital.
Fun Activities to Do in Nainital
Trekking
Being a hill station, Nainital offers its visitors a large number of trekking options, amidst the scenic beauty of nature. The most popular trails include Nainital Betalghat Trek, Nainital Binayak Trek, Nainital Kainchi Trek, Nainital Kilbury Trek, Nainital Kunjkharak Trek, and Snow View Trek. The trek to Naina Peak is yet another one that is frequented by adventure lovers.
Boating & Yachting
Naini Lake, a natural freshwater lake in Nainital, provides the tourists opportunities of boating and yachting. A lunar-shaped lake, it is one of the four lakes in the Kumaon hills, with the others being Sattal Lake, Bhimtal Lake and Naukuchiyatal Lake. As you go boating and/ or yachting on the lake, the vistas of the three surrounding mountain peaks - Naina Peak, Tiffin Top and Snow View, simply take your breath away.
Wildlife Sighting
Located in the Nainital district of Uttarakhand, near Ramnagar-Kashipur highway, Jim Corbett National Park offers tourists the perfect opportunity to explore the wild creations of nature. The rich wildlife of the place includes tigers, leopards, sloth bear, Himalayan black bear, dhole, jackal, yellow throated marten, Himalayan palm civet, Indian grey mongoose, common otter, porcupine, and black naped hare, elephants, spotted deer, etc.
Nature Walks
When in Nainital, do not miss out on the opportunity of going on nature walks, with your loved ones. As you take a right turn just before Tiffin Top, you will find an excellent trail along the McDonald's Circular Road. If you are lucky, you might even spot the shy barking deer, plumaged khaleej pheasant and beautiful 'pyura' along the way. Other trails that are worth exploring include the one from Tiffin Top to Land's End and the other from Land's End to the Stables.
Horse Riding
A visit to Nainital cannot be complete unless and until you get a taste of horse riding, especially in the Mall area. Apart from that, you can also hire a horse or pony for going to Snow View Point, Tiffin Top, and Kilburi, from the Mallital area. Many people love to ride a horse to the Naina Peak as well, enjoying the views of the majestic Himalayas, covered with snow, and Nainital city, on the way.