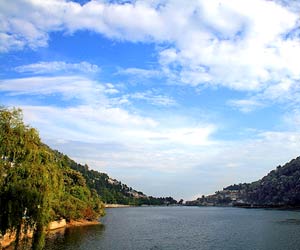 The weather of Nainital is largely influenced by the Himalayan terrain it is surrounded with. Nainital has a pleasant to nippy weather in approximately all the months except that of January to mid March since at that time it snows there. Since Nainital is located at an average elevation of 2084 m, it almost has a lovely weather all through the year and even the cold doesn't make weather disagreeable.
The average temperature of Nainital in summers is around 27°C (maximum) and 10°C (minimum); for winters it ranges from 15°C (maximum) and 3°C (minimum). During winters, the temperature may go down below 0 ºC at times. The time period from April to June is balmy which results in the maximum number of tourists coming from the hot plains. July onwards Nainital experiences the monsoons. The rains are extremely heavy here and have hails sometimes. Whenever the sun comes up during these rainy days, it becomes very hot and humid.
The months of September to mid December can be termed as the months having the perfect weather. Many festivals like Dusshera fall in this period so one can also look forward to celebrating it with the locals. The neighboring areas of Almora and Ranikhet are warmer than Nainital so take care to bring lighter woolens or sweatshirts.
Best Time to Visit
Best time to visit Nainital is between the months of March to mid October since this time period has the most beautiful scenery complementing the balmy weather and warm sunshine.