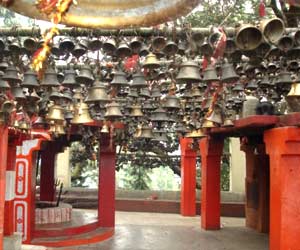 Ghorakhal is a small place, perched at an altitude of 2000 meters above the sea level. It falls under Nainital district of Uttarakhand, approximately 36 km from Kathgodam Station and 4 km from Bhowali. 'Ghorakhal ' literally means 'a pond for water to horses'. It is a picturesque site, with natural serenity and placidity. Ghorakhal is a must visit for all those who come to Nainital and Bhowali. It is the perfect destination for those who love to have a silent, serene and peaceful holiday, away from glitz-blitz of cities.
One of the famous attractions in Ghorakhal is Golu Devta Temple, always in news for the unique rituals performed here. One such ritual is that devotees make petitions at the temple, using stamp papers, to seek desired decree in litigations. On accomplishment of their wish, the deity is shown gratitude by hanging bells or making animal sacrifice. People from all over the region consider Golu Devta, the presiding deity of the temple, to be an incarnation of Lord Shiva and 'the God of Justice'.
The first Sainik school of Uttarakhand is located at Ghorakhal. This is 'one of its kinds' school in the area and is surely worth a visit. This school prepares its students, mentally as well as physically, for joining the armed forces and inculcates the feeling of patriotism in them, right from childhood. The climate of Ghorakhal is cool and healthy throughout the year, making it an ideal place for setting up such an institution. The admissions take place only for VI and IX classes.