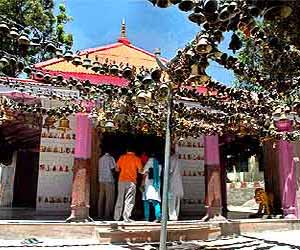 Gently enveloped amidst dense pine and deodar forest, with a majestic background of Himalayas, Ranikhet indeed has a breath-taking and pristine charm. The tranquility and beauty of this place is unmatched and unscathed. Away from the hustle-bustle of popular hill stations in India, this is a perfect destination for those who are looking for a calm and peaceful holiday. Amongst the beautiful scenic vista of Ranikhet lie some beautiful places and scared temples that are worth visiting. From the ancient temples to nascent built orchards and parks, Ranikhet offers a journey that starts from glorious history and ends up bringing you to an era of development and technological advancement. Read onto explore the major tourist attractions of Ranikhet.
Places to Visit in Ranikhet
Jhula Devi Temple and Ram Mandir
Jhula Devi temple is one of the most ancient temples of Uttarakhand, built as far back as 8th century AD. The temple is situated approximately 7 km away from the major township of Ranikhet. The presiding deity of the temple is Goddess Durga, the Hindu Goddess of Power. It is believed that if you tie holy bells to the walls of the temple, while wishing for something, the wish will be granted.
As per mythological accounts, the temple was built to seek Durga's protection from the wild animals residing in the nearby forest. It is said that the Goddess appeared in the dream of a shepherd and asked him to excavate an idol from a particular spot and build a temple over that spot. One of the most famous temples of the Kumaon hill, Ram Mandir is situated atop the Jhoola Devi Temple. It has Lord Rama as its presiding deity.
Nanda Devi Mela
Nanda Devi Mela, held at Nanda Devi Temple, is of great cultural importance to the localities. It is held in the month of September, to honor the Goddesses - Nanda Devi and Sunanda Devi. The fair was started in the 16th century, under the reign of Raja Kalyan Chand. It is considered as the symbol of prosperity and well being for the region.
Upat And Kalika
Upat is situated just 5 km away from Ranikhet. It is famous for the panoramic view of surrounding snow capped Himalayan peaks. Here one can enjoy a game of golf at the Army Golf Course. Kalika that draws its name from the famous Kali Temple that is located within the town is about 1 Km from Upat.
Rani Jheel
Rani Jheel is a huge artificial lake, developed between two natural ridges of Ranikhet - Canossa Convent School and Kendriya Vidyalaya. It was built by the Cantonment board, for rain water harvesting.
Hairakhan Dham
Hairakhan Dham is the ashram of Hairakhan Baba, a saint who lived in Hairakhan between 1970 and 1984. It is approximately 5 km away from the main township of Ranikhet. The ashram is a spiritual place where people from all religion are embraced equally.
Mankameshwar Temple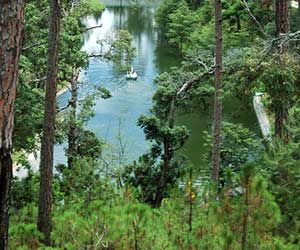 Mankameshwar Temple was built by Indian Armyís Kumaon Regimental Centre, in 1978. The presiding deities of this temple are Ma Kalika, Lord Shiva and Radha-Krishna. The location of the place is magnificent and enjoys a pleasant weather throughout the year. Near by the temple is a Gurdwara and factories of woolen garments.
Majhkhali
Situated on Ranikhet-Almora road, Majhkhali provides an enthralling, picturesque and celestial view of the surrounding snow-clad mountains. It is a must visit for those who love to appreciate scenic beauty.
Chaubatia Orchard
Situated approximately 10 km away from the main township of Ranikhet; Chaubatia Orchard boasts of more than 200 exotic varieties of fruits and flowers. It is a must visit for those interested in flora and fauna. It also offers picturesque view of the snowclad Himalayan mountain peaks, including NandaDevi, Trishul, Nandaghunti and Nilkanth.
Bhalu Dam
Bhalu Dam is a very beautiful lake, developed in the reserved forest, approximately 3 km below the Chaubattia Orchard. The lake was constructed by the British Government, in 1903.
Cantonment Aashiyana Park
Cantonment Aashiyana Park was the first park to be built in Ranikhet and it offers a perfect environ for people of all age groups. Inside the park, there are various sections, like Children's Park, Herbal Garden, Lawn, Colorful Fountain, View Points for Himalayan Ranges and much more. It is the perfect place to unwind from all the tensions and enjoy in secluded peace.
Sunset Points
Ranikhet offers various viewpoints for its amazingly beautiful sunsets. The most prominent amongst tem are Machkhali (near woodvilla), a site between Transit Camp & Ganiadeoli, and the one located on the road leading from Jhoola Devi Temple to Bhargaon.
Kumaon Regimental Centre Museum and Memorial
Kumaon Regimental Museum and Memorial is a must visit place in Ranikhet. The memorial, towering over the famous Somnath Ground, was built in 1974, as a symbol of bravery and ultimate sacrifice of army soldiers. It is at this place only that young boys, before becoming soldiers, take a pledge of loyalty to their motherland. The colorful parade held here every year is a must-see. The museum was built in the complex in 1978, with the aim of preserving and exhibiting the rich and magnificent legacy and customs of Kumaon Regiment.