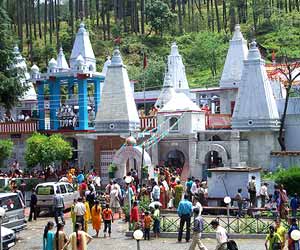 Ranikhet abounds in natural splendor and has certainly many beautiful and mesmerizing locations to boast of. Quaintly enveloped by mystic Himalayas, this place is located amidst one of the most beautiful surroundings on earth. Not just the places in Ranikhet, but its excursions are equally enchanting and interesting. The place is surrounded by some real beautiful temples, some historical monuments and many mesmerizing locations, within a radius of 25 km. If you are visiting Ranikhet, make sure to take out time for visiting the excursions too.
Tourist Places to See Near Ranikhet
Kausani
Kausani is located approximately 60 km away from Ranikhet. This is a picturesque site, offering a 350-km long panoramic view of the Himalayan peaks like Trisul, Nanda Devi and Panchchuli. It lies amidst the dense pine trees, with commanding views of Someshwar valley on one side and Garur and Baijnath Katyuri valleys on the other. This place is called the 'Switzerland of India', due to similarity in landscape with the Swiss Alps.
Binsar Mahadev
A beautiful temple dedicated to Lord Shiva, Binsar Mahadev Temple is only 15 km away from the main township of Ranikhet. It has enchanting surroundings, with a beautiful natural spring and lovely cedar forest nearby. Near the temple, there is also an ashram, dedicated to Binsar Mahadev.
Sun Temple (Katarmal)
One of the ancient temples in Almora, the Sun temple at Katamal is approximately 800 year old. This temple is surrounded by 44 small shrines. The temple is known for its ancient exquisite architectural pattern and wonderful stone carvings, which adorn its wall. 25 km away from Ranikhet, this is a major excursion from the town.
Tarikhet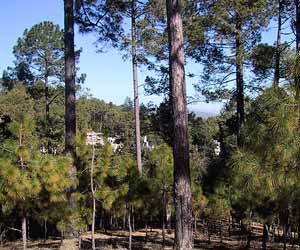 Approximately 8 km from Ranikhet, on the way to Ramnagar, there is a beautiful, verdant and exotic village called Tarikhet. This village has a mention in history, for its participation in India Freedom Struggle. The famous Gandhi Kutiya, where Mahatma Gandhi stayed during the freedom struggle, is a place worth visiting, to feel and understand the glorious history of India.
Sitakhet
Sitakhet is located approximately 25 km from Ranikhet. It is a scenic spot, with a panoramic view of the mystic Himalayan ranges. There is a dense forest in this area, abounding in wonderful fruit orchards and several medicinal herbs and shrubs.
Dwarghat
This is an ancient historical site located on the Ranikhet - Karnaprayag Road, is about 38 Km from Ranikhet. This place was once the capital of the Katyuri Kingdom. It is basically famous for being the location of ancient temples like Mrityunjaya, Dhwaj, Badnirath, Maniyan, and Kachri Devtas. Every year, in the month of April, a very interesting and famous fair, Syalde-Bikhauti, fair takes place here.
Khoont
Khoont, a small village known for being the ancestral village of the great freedom fighter - Govind Vallabh Pant, is approximately 30 km from Ranikhet. If you are in search of some threads associated with the freedom struggle, Khoont would be surely worth a visit.