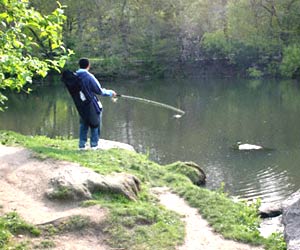 Ranikhet is best appreciated for its scenic beauty and quaint charm. Besides lazing around and enjoying the nature's bliss, there is nothing much to do in Ranikhet. However, people want favors in any case. As hill-stations have always been liked for the natural world they offer, Ranikhet is also admired for the meandering trails, beautiful sceneries and peaceful surroundings. To know about fun activities and things to do in Ranikhet, read this article.
Fun Activities to Do in Ranikhet
Head for Trekking!
Trekking is best enjoyed in a group of friends. Chit-chatting, admiring scenic beauty, clicking pictures, etc, are just few reasons which always tempt people to go on trips. Trekking is also the best leisure activity that can be enjoyed by all age groups in Ranikhet. Amongst the popular trekking trails in the area, the one from Chaubatia Orchards to Holm Farm is quite popular. Then, there are trails from Chaubatia to Bhalu Dam, Ranikhet Club to Chevron Rosemount, Meghdoot to Jhula Devi Temple, and Chaubatia to the artificial lake - Bhalu Dam.
Nature Walks
When in Ranikhet, do not forget to indulge in nature walks, which will help you explore the beauty of the place in the best possible way. The best walking trails includes those from Nar Singh Ground to Meghdoot Hotel (via Ranikhet Club), from Meghdoot Hotel to Chaubatia, from Army Holiday Home to the AMU Guest House, from the Mall to the AMU Guest House, and from Jhula Devi Temple to the orchards of Chaubatia.
Explore Flora!
The beautiful plants and flowers, seen in Chaubattia orchards, make another good reason to visit this place. Originally known for growing apples, pears, peaches, apricots, plums, cherries, sweet chestnuts, quince, currants, gooseberries, figs, mulberries, strawberries and blackberries, these orchards now house the regionís first Horticulture Research Institute. Here, you can see a variety of amazing flowers, in different colors.
Try Fishing!
Bhalu Dam on Kosi River, a few kilometers from Chaubattia, is the place where anglers can enjoy fishing. But before this, you have to take prior permission from the Chief Wildlife Warden Dehradun.
Go Golfing!
Upat is just a few kilometers from Ranikhet, and offers great opportunity for golfing at high altitude. This 9-hole golf course is among the highest in the world. From here, it's always a pleasure to savor the spectacular view of snow peaks. However, you have to take permission for admission as well as playing, from the army, beforehand.
Visit Temples!
Post Upat, there is a famous Kalika Temple dedicated to Goddess Kali. Another significant temple is Jhula Devi Temple which is dedicated to Jhula Devi; it is believed that the goddess grants all the wishes of her devotees. Mankameshwar Temple, managed by Kumaon Regimental Centre, is one other temple on the way to KRC Museum.