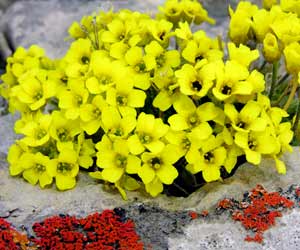 Ranikhet, a hill station and cantonment town situated in the Almora district of Uttarakhand, comes across as the perfect blend of forests, mountains and varied flora and fauna. In fact, perched at an altitude of 1869 meters above sea level, the town is known for its rich flora and fauna, which shows a huge impact of the Himalayan origin. The distinct Himalayan features of the birds and animals in this area can be easily noticed. In the following lines, we have provided more information on the flora and fauna of Ranikhet.
Flora
Ranikhet is very rich in terms of flora, with approximately 4000 species of plants. There is also a significant diversity in its natural vegetation, because of its location at a great range of elevation. The distinctive climatic factors, along with the other factors like soil texture, are responsible for the types of flora found here. The flora of Ranikhet can be categorized into tropical, Himalayan sub-tropical and sub alpine and alpine vegetation.
As the climatic conditions prevailing here range from temperate to sub-arctic, the alpine and sub alpine zones are considered as the most natural abode of this region. There are also rich varieties of medicinal plants in this area. The most commonly found trees in Ranikhet include pine, oak and deodar. Other trees found here are blue pines and sub-alpine birch. This area also has moist mixed deciduous forest, sub-alpine pastures and scrub in abundance.
Fauna
Ranikhet is equally rich in terms of fauna, as in flora. The various geographical and climatic factors of the area contribute make it a natural abode for majestic animals like Leopard, Langurs, Himalayan Black Bear Kakar and Goral. The high altitude zone of this area also abounds Musk Deer, Snow Leopard, Blue Ship and Thar.
The other varieties of animals seen in Ranikhet are Leopard Cat, Mountain Goat, Barking Deer, Sambhar, Pine Mertin, Wild Bear, Indian Hare, Red Faced Monkey, Jackal, Red Fox, and Porcupine. The area in and around the town witnesses an exotic variety of birds, like Grey Quail, Kala Titar, Whistling Thrush, Chakor, Monal Pheasant, Cheer Pheasant and Koklas Pheasant.