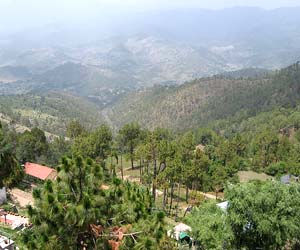 Basically known for its pleasing scenic beauty and wonderful temples, Ranikhet is a place where you can take a trip anytime of the year. Other than the scenic beauty that it offers to your eyes, the town boasts of a pleasing weather, throughout the year, which serves as a rejuvenating factor for your health. Ranikhet enjoys a cool temperature all the year around, making it a place surely worth visiting. In the following lines, we have provided more information on the weather and climate in Ranikhet township of Uttarakhand.
Summer
The summer season in Ranikhet starts, somewhere, around late March and lasts till the month of June. The township enjoys a mild summer, with the maximum temperature hovering around 30
o
C and the minimum temperature being around 8
o
C.
Winter
In Ranikhet, the winter season brings across chilly conditions. The maximum temperature seldom goes beyond 8-9
o
C, while the minimum temperature is usually found to be hovering around 3
o
C to 7
o
C. You can also expect snowfall in the months of December, January and February.
Monsoon
The monsoon season in Ranikhet stretches over from mid-June to August. During this time, the township receives average rainfall, which sums up to around 127 cm in the whole year. Lots of cultural and sports activities take place in the city post monsoon.