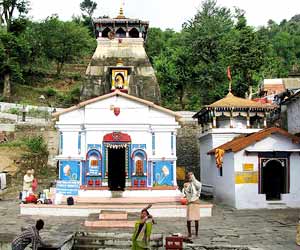 Guptkashi, a place filled with serenity and tranquility, is located in the district of Rudraprayag within the hill state of Uttarakhand in India. Guptkashi is about 49 km from the famous Kedarnath.
Guptkashi is considered to be as important as Kashi since it is here at Manikarnik Kund that the streams of Ganga and Yamuna are believed to meet. Guptkashi, situated in the lap of nature, is surrounded by spiritual air that is sure to captivate anyone with its mystic charm.
It is believed that after the battle of Kurukshetra when the Pandavas were on a lookout to meet Lord Shiva and seek his blessing, the Lord evaded them by leaving Guptkashi for Kedarnath. Lord Shiva did not wish to meet them as he held them responsible for bloodshed and destruction of their family dynasty even though they fought for the right cause.
Holy Places In Guptkashi
Vishwanath temple
Ardhnareshwar temple
Manikarnik Kund
Excursions from Guptkashi to Nearby Places
Ukhimath:
The winter seat of Lord Kedarnath, it is 12 Km from Guptkashi
Triyuginarayan:
It is believed that the wedding of Lord Shiva and Goddess Parvati took place here.
Tungnath:
This is the highest shrine of Shiva amongst the Panch Kedars.
How To Reach
By road, it is well connected with the major destinations of the region like Dehradun, Haridwar, Rishikesh, Rudraprayag and so on. Nearest railhead is at Rishikesh (186 Km) and nearest airport is Jolly Grant of Dehradun.