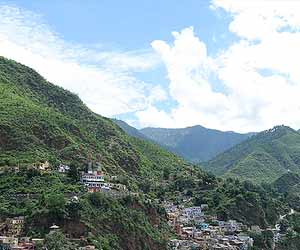 Weather of Rudraprayag depends largely upon its varying altitude of 800 to 8,000m above sea level. The temperature remains pleasant to cold for most parts of the year, though one might need light woolens.
The Temperature
The minimum temperature in summer remains about 15°C and but the maximum temperature may go above 25°C. The winters, however, are colder with the mercury dipping to the freezing point during nights but jumping to 15-18°C in the day. The average annual precipitation hovers around 55 to 60 percent, especially in the months of June to September. The humidity generally remains 35 to 45 percent all through the year but goes upto 70 to 80 percent in the monsoons. One will be comfortable wearing cottons and maybe light woolens in summers and heavy woolens in winters.
Best Time to Visit
The months of mid-March to mid-June are specially favored since the weather at this time is most pleasant. The mildly cool breeze gives one huge relief from the hot winds from the plains. The months of September to November are also worth going to Rudraprayag.