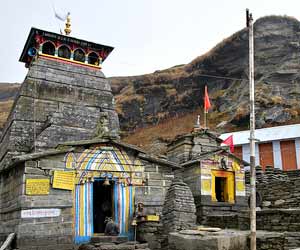 There is an interesting legend about the Panch Kedar. According to it, after the battle of Kurukshetra the Pandavas went out look for Lord Shiva to seek his blessings. But Lord eluded them since he did not wish to meet them.
When the Pandavas found out where Lord Shiva was, the Lord assumed the form of a bull. The legendary Pandava Bhima tried to pick up the bull but it sank into the earth. However, Bhima could manage to retain the hump of the bull.
Impressed by their determination, Lord Shiva finally blessed the Pandavas and freed them from their sins. The lord then asked them to worship his hump at Kedarnath.
The other parts of Lord Shiva's body, arms, face, nevel and hair locks appeared at Tungnath, Rudranath, Madmaheswar and Kalpeshwar. These four shrines along with Kedarnath are worshipped as Panch Kedar.
Thus, the five kedars or Panch Kedar are as under:-