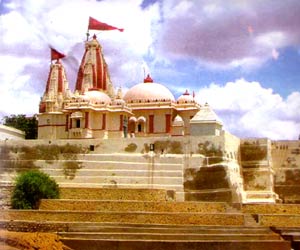 The temple of Koteshwar is located at a distance of 3 Km from the main city of Rudraprayag in the hill state of Uttarakhand. Koteshwar is an ancient temple dedicated to Lord Shiva.
Koteshwar Temple, cradled in untouched pristine surrounds of Himalayan nature, is famous for its naturally made idol. It is believed that it is here that Lord Shiva meditated before leaving for Kedarnath.
Located on the banks of river Alaknanda, this ancient temple of Koteshwar is in the form of a cave temple. There are many idols here which are naturally formed. Apart from Lord Shiva, there are idols of other deities - Parvati, Ganesh, Hanuman & Durga - as well.
Every year, thousands of devotees visit this holy temple of Koteshwar to pray to Lord Shiva and seek his blessings. The best time to visit Koteshwar is during the month of Shravan i.e. in July-August.
How To Reach
By road, Koteshwar Temple is 3km short of Rudraprayag, 55 km from Srinagar, 168 km from Rishikesh and 249 km from Dehradun. Nearest railhead is at Rishikesh (168 Km) and nearest airport is Jolly Grant of Dehradun.