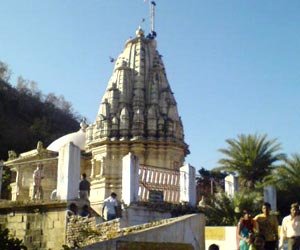 Rudraprayag is full of temples and these temples have various myths and legends associated with them. Most of the temple legends are associated with Lord Shiva, Mahabharata, Ma Gauri and the Pandavas. Koteshwar Mahadev Temple, Rudreshwar Mahadev Temple and Panch Kedar are three most famous temples in Rudraprayag.
Koteshwar Mahadev Temple
Located about three kms inside the 'heart' of Rudraprayag, Koteshwar Mahadev Temple is dedicated to Lord Shiva. This place is presumed to be the same spot where Lord Shiva had stopped for meditation on his way to Kedarnath. It is believed that if a childless couple wholeheartedly chants the Maha Mrityunjaya mantra the entire Sravana month, then they are blessed with children.
Rudreshwar Mahadev Temple
Situated approximately 45 kms from Joshimath and 24 kms from Gopeshwar, the Rudreshwar Temple is one of the Panch Kedar temples. This temple has three extremely holy ponds (or mini lakes, one might say) known as Surya Kund, Chandra Kund and Tara Kund. It is said that demigod Narada performed penance here for Lord Shiva. After the penance got over, Narada received the boon of being the eternal teacher & master of music. The temple of Goddess Anusuya is just three kms away from Rudranath temple.
Panch Kedar
The Panch or Five Kedar are positioned in the striking basin between the rivers Bhagirathi and Alaknanda. All the Shivalingas are housed in different temples and are associated with a common story originating in Mahabharata. The Panch Kedar's names are the Kedarnath, Madmaheshwar, Tungnath, Rudranath and Kalpanath. Kedarnath is probably the best known of the lot while Tungnath being having the most arduous trek. Kalpanath is one of the few places where Lord Shiva is worshipped in his matted hair form.