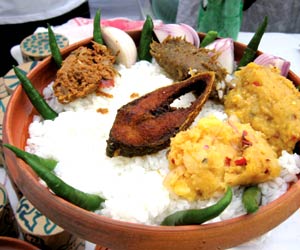 West Bengal is famous for its scrumptious cuisines. Though the staple food of the state revolves around fish and rice, there are so many varieties of the same that you will feel like having a different dish every time. You can have the fish steamed, fried, stewed with vegetables and sausages or boiled in spices, with different flavors. There are also so many varieties of fish available here that it would be difficult for you to decide what to taste and what not. You can choose between Salmon, Hilsa, Bhekti, Magur, Carp, Rui and Prawns, the most popular varieties of fish in West Bengal.
The use of mustard oil and Panchforan (mixture of five species, namely aniseed, mustard, fenugreek seeds, cumin seeds and black cumin seeds) also adds a distinct flavor to Bengali dishes. Another aspect that makes Bengali cuisine distinct is the constant experiment that the people here do with their food. The traditional food of West Bengal also shows the effect of the long Mughal and European reign in the state. Most of the Bengalis are born with a sweet-tooth and sweet dishes, along with sweet curd, form an important part of their meal.
Mishti Doi (the sweet curd), one of the most popular desserts of Bengal, is served in an earthen bowl and tastes tremendously delicious. Bengali Sweets are gastro-intestinal delights. They include Chômchôm, Pantua, Pitha, Rôshogolla, and Shôndesh, to name a few. Talsking about Bengali snacks, Muri, Jhal-Muri and Moa are the most famous. Other popular Bengali dishes are Begun Bhaja (the fried Brinjal), Luchi (a kind of flour snacks), Macher Jhol (a fish recipe), Doi Machch (sea food) and Kosha Mangsho (a meat dish).