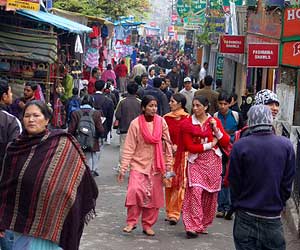 West Bengal is famous for its arts and crafts, its unique and beautiful ethnic wears, its delicious sweets and snacks as well as its premium quality tea. Once you are in West Bengal, you would not have to wander much for shopping. At every hook and corner of the state, you will get so many things worth buying that you will be confused, as to what to buy and what not. While the Government Emporia are available everywhere, even the private shops are also not lagging behind. If you are a good bargainer, shopping from the roadside vendors, who offer a good variety, will be the best deal in the state.
Your will get immense varieties of ethnic wears in West Bengal, both for men and women. However, it is better to buy those attires and textiles which are the specialty of West Bengal only. So, you should concentrate on the exquisite Bulchari saris, also known as Bengali silk saris and Batik work Saris. If you love embroidery, choosing between Kantha, Chikan, Kashida and Zari work will be really difficult for you. In this case, if you have got the budget, buying one of each kind is advised. Ethnic wear for men, like sherwani and kurta-pajama, are also available in lots of varieties and textures.
When in West Bengal, make sure to buy the wonderful handicrafts and paintings of this state. Items of clay, conch, shoal, conch-shell, jute, cane and bamboo, brought from here, will prove to be something that you can cherish for a lifetime. Goods like carpets, mats, dhokra and metal cast items should also be a part of your shopping in West Bengal. If you love beverages, do not miss buying the premium quality organic tea of Darjeeling. Though sweets are perishable items, you may try buying them if your return journey is not too long.
Shopping Places in West Bengal
If you are in Kolkata, you have lots of shopping places to choose from. Head towards New Market, also known as Hogg's market, sited on the Lindsay Street, if you are good at bargaining. With about 2000 stores, offering a wide variety of items, you won't miss anything on your shopping list. Dakshinapan Shopping Center, on Ghariahat Road (Dhakuria), is the best place to buy handicrafts and artifacts. The Forum Mall, at Elgin Road (Lala Lajpat Rai Sarani) is a place where you will find all the up-market shops. The Chowringhee Road in Kolkata is famous for vendor stalls selling anything and everything under the sun.
If you are in Darjeeling, Chowk Bazar, Chowrasta, Ladenla Road, Nehru Road, Supermarket, Motor Stand and Mahakal Market are the places you should head towards. You can also go to Hayden Hall, on Laden La Road, for wonderful Tibetian carpet, at the cheapest rate. Chowrastha and Nehru Road are famous for junk items. For fresh and premium quality tea, head straight towards the tea gardens in the city. For buying clay and terracotta products as well as the ancient arts of West Bengal, the local shops at Murshidabad, Birbhaum, Hoogly, Digha and Jessore are a good option. For the famous Baluchari sarees, any premium saree store in Murshidabad will suffice.