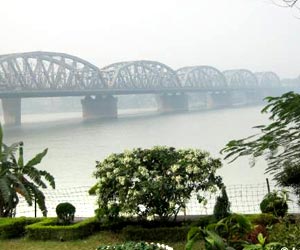 The climate of West Bengal experiences great variation, mainly in accordance with the topography and location of the area being referred to. For instance, while south Bengal experiences tropical savannah climate, the north witnesses humid subtropical weather conditions. The seasons here can broadly be divided into five main categories: spring, summer, rainy season, autumn, and winter. The autumn here is comparatively shorter than other parts of India, lasting only from beginning of October to the middle of November. Let us explore more information on the weather and climate of West Bengal.
Summer
Before summer, West Bengal experiences a short period of pleasing spring, mainly in the northern part of the state. The summer starts in March and ends by July, with April being the hottest month. While the summer in delta plains are hot and excessively humid, the western highlands are comparatively quite dry. The maximum temperature ranges between 38°C and 45°C, while the minimum is around 20°C.
Rainfall, along with thunderstorms, often occurs in the plains during summer, due to the formation of low pressure troughs, locally known as Kalbaisakhi. The summers in the mountainous parts of Darjeeling and Jalpaiguri districts are very different from the tropical plains, with average temperature being about 15°C. The summers here are pleasing and not at all humid.
Monsoon
The summers in West Bengal are followed by rains. The monsoon season stretches on from June to September. The average annual rainfall varies in the different parts of the state. While the northern region receives heavy rainfall, ranging about 200 to 400 cm, the coastal areas, Gangetic plains and the central parts of the state receives about 150-200 cm of rainfall.
The western plateau of West Bengal receive low rainfall, around 100 to 125 cm. Drought is a common occurrence in the Bankura and Purulia districts. With the arrival of the monsoons, low pressures in the Bay of Bengal region generally leads to storms in the coastal areas. Rainy season is succeeded by a short autumn, beginning from October and ending by the middle of November
Winter
In West Bengal, winter season starts with the end of autumn i.e. in mid-November and stretches on till mid-February, with January being the coldest month. Winter is moderate in the plains, with average minimum temperatures being somewhere around 15°C. During this period, the humidity is quite low, even in the plains.
Some amount of rainfall can be expected in this season, due to the western disturbances. Those areas of West Bengal that lie in the lap of mystic Himalayas experience a harsh winter. The temperature there averages around 2°C in winter. Heavy snowfall can also be experienced in the regions falling in the eastern Himalayan belt of West Bengal.